Monsanto sued for underpaying workers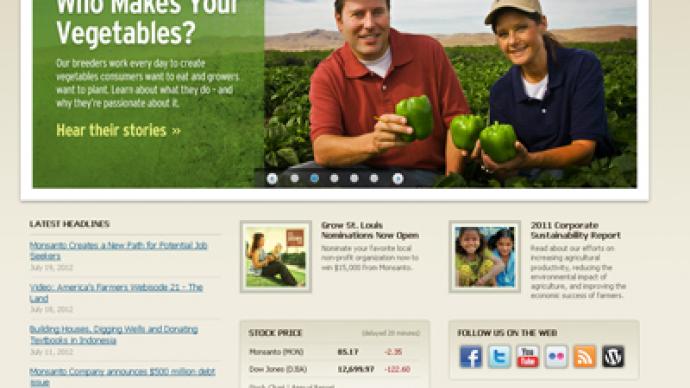 It's back to court for biotech giants Monsanto. This time America's largest agriculture corporation is being sued by a group of farmers who say they were promised free housing but instead were charged thousands and poisoned by pesticides.
Seven migrant workers from the state of Texas are suing Monsanto after they say the massive biotech corporation failed to keep their promise. The plaintiffs argue that they were promised free housing and kitchen access for their families in exchange for working on a hybrid corn seed project in the state of Indiana, but instead were milked out of their money and exposed to dangerous chemicals.Jose Cardenas, the lead plaintiff in the case, is going after Monsanto and its recruiter, Milo Inc., as well as that company's president. Cardenas insists that Milo Inc. promised the plaintiffs $80 for each acre the farmers detasseled and would be additionally compensated with housing arrangements. According to his complaint, however, the pay that was signed over was less than minimum wage when divided among the crew members.Courthouse News Service reports that money problems weren't all the farmers were poised with."The motel housing did not comply with substantive federal and state safety and health standards applicable to agricultural labor housing," the complaint reads.Additionally, instead of complimentary accommodations they were forced to spend $300 per room while on the job.And the kitchen? "[T]he kitchen facility provided by the defendants – a school bus in which about three to four stoves and two refrigerators had been installed – was substandard.""Two or more of the working plaintiffs suffered illness or injuries from suspected pesticide exposure while working for defendants," the farmers add.Attorney Kathryn Blair Craddock with Texas Rio Grande Legal Aid is representing the group of seven workers whom are seeking damages under the Agricultural Worker Protection Act, as well as unpaid wages as promised through the Fair Labor Standards Act. Agriculturalists across America have previously tried to take Monsanto to court over charges stemming from their lab-made corn GMOs, but that case was a bit different. Over 2,000 farmers have petitioned the US government to more thoroughly investigate the impact a genetically modified corn crop from Monsanto will have on the country. As RT reported before, the biotech company wants to plant a corn variant across America's Midwest that will be resistant to a powerful pesticide produced with 2,4-D, the same compound crucial to the make-up of the notorious Vietnam War-era killer Agent Orange. If approved, the new corn will be able to thrive as farmers douse their fields in the chemical, killing off unwanted weeds in the process while at the same time subjecting Americans to a pesticide linked to causing cancer.
You can share this story on social media: