Monsanto secures victory over organic farmers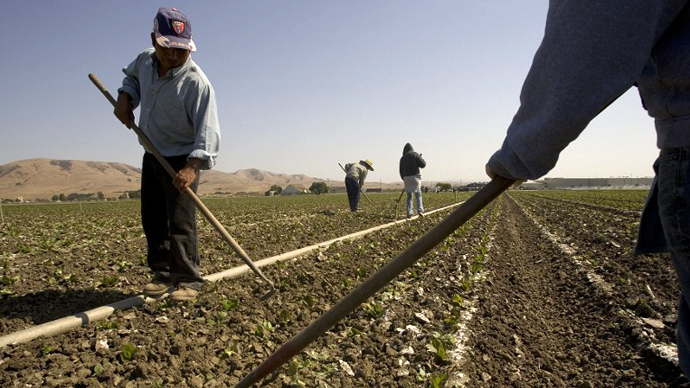 An appeals court ruling handed down Monday is being largely viewed as yet another victory for biotech giant Monsanto.
The US Court of Appeals for the Federal Circuit ruled this week that an earlier ruling favoring Monsanto would stay intact, despite mounting concerns voiced by farmers and agriculturists bothered by the biotech company's reputation for litigation.
The plaintiffs in the case — dozens of independent and small time crop growers — filed a lawsuit in March 2011 in hopes of having a federal court protect them against any future claims courtesy of Monsanto. The St. Louis-based biotech company has pursued more than 800 patent infringement cases at a cost of around $10 million a year, often bankrupting farmers because their fields are found to contain traces of genetically-modified or –engineered seeds and crops patented by Monsanto. Those plants, "Roundup Ready" crops, are made to withstand exposure to the Roundup weed killer made and marketed by Monsanto. The Southern District of New York previously ruled that it could not force Monsanto to guarantee it won't file future claims against farmers found to have trace amounts of GMO seeds in their fields, and this week a federal appeals panel upheld that decision.
Monsanto, ruled the appeals court, does not need to legally extend a guarantee that farmers accidently using trace amounts of patented seeds won't be sued because the company "has made binding assurances that it will not 'take legal action against growers whose crops might inadvertently contain traces of Monsanto biotech genes (because, for example, some transgenic seed or pollen blew onto the grower's land).'"
"Monsanto's binding representations remove any risk of suit against the appellants as users or sellers of trace amounts (less than one percent) of modified seed," the court ruled.
In the decision, the appeals panel sided with Monsanto while also acknowledging that the company's promise not to litigate in situations where farmers exceed their one-percent threshold of unauthorized use of patented products doesn't provide solace to concerned farmers. The company currently acknowledges on its website that it will not litigate in instances where farmers are found to have trace amounts of patented crops on their fields.
It "has never been nor will it be Monsanto policy to exercise its patent rights where trace amounts of our patented seeds or traits are present in farmer's fields as a result of inadvertent means," the company writes on their website.
"One problem with Monsanto's disclaimer," the court ruled this week, "is that it has limited scope: it applies only to growers or sellers of 'trace' amounts of seed. At oral argument, Monsanto resisted our efforts to clarify whether it would assert its patents against a conventional grower who inadvertently uses or sells greater than trace amounts of modified seed, but who, for example, does not make use of the Roundup Ready trait by spraying the plants with glyphosate. Thus, we cannot conclude that Monsanto has disclaimed any intent to sue a conventional grower who never buys modified seed, but accumulates greater than trace amounts of modified seed by using or selling contaminated seed from his fields."
"The appellants have alleged no concrete plans or activities to use or sell greater than trace amounts of modified seed, and accordingly fail to show any risk of suit on that basis. The appellants therefore lack an essential element of standing. The district court correctly concluded that it lacks Declaratory Judgment Act jurisdiction," the court continued.
Andrew Kimbrell, a lawyer with the Center for Food Safety, told Reuters he wasn't happy with the court's decision.
"It is a very bizarre ruling that relies on a paragraph on a website," he said. "It is a very real threat to American farmers. This is definitely appealable."
Dave Murphy, founder and executive director of Food Democracy Now!, told Farm and Ranch Guide that "Today's ruling may give farmers a toehold in courts regarding the unwanted contamination of their crops, but it does not protect our food supply from the continued proliferation of Monsanto's flawed technology."
"The assertion that Monsanto would pursue patent infringement against farmers that have no interest in using the company's patented seed technology was hypothetical from the outset," Monsanto responded to the ruling in a statement issued Monday.
According to this week's opinion, Monsanto filed 144 infringement suits and settled about 700 other cases without litigation between 1997 and 2010. Protests against the company were held last month in dozens of countries around the globe.
You can share this story on social media: