Feds delay approval of new Monsanto crops over environmental concerns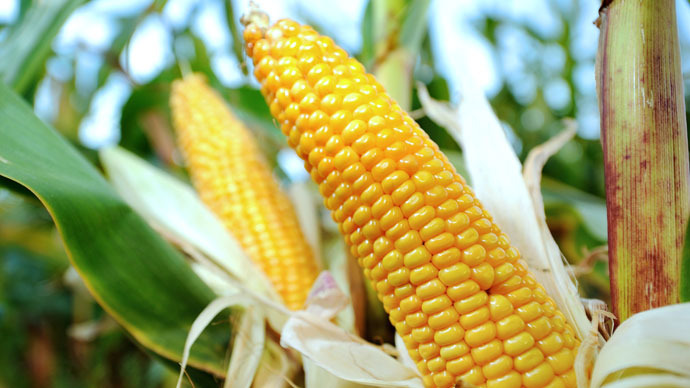 Biotech giant Monsanto faced a surprising setback after federal authorities refused to approve a new generation of genetically-engineered crops that could survive an unprecedented use of herbicides.
Monsanto was awarded a big win on Monday by the United States Supreme Court, but another federal ruling made only days earlier brought some comparatively bad news to the biotech giant.
The US Department of Agriculture announced Friday that they've ordered additional environmental impact statements (EIS) for herbicide-resistant crops that have been waiting for federal approval. Now Monsanto and the chemical company Dow will have to sit anxiously and await the results of those assessments before they are given the go-ahead to sell genetically-engineer plants that have raised serious environmental issues.
At stake is the future for a variety of corn, soybean and cotton crops that have been genetically-engineered to resist two heavy-duty pesticides, namely 2,4-D and dicamba. Both Monsanto and Dow have been hoping to get the go-ahead to sell these crops, but ordering further testing will set the release date back to perhaps 2015.
A number of farmers and environmentalists have opposed the selling of crops resistant to these chemicals, because the result could likely mean dousing fields with pesticides in unprecedented levels.
"The danger that 2,4-D and dicamba pose is a real threat to crops…nearly every food crop," Steve Smith, director of agriculture at Red Gold, told Reuters last year.
Dr. Gina Solomon, a board-certified in Occupational and Environmental Medicine and Internal Medicine specialist, wrote of concerns stemming from the use of 2,4-D as a crucial component in an infamous chemical warfare campaign during the Vietnam War. "There's no reason to continue allowing a toxic Agent Orange-ingredient in the places our children play, our families live and our farmers work. EPA must step up and finally put a stop to it," she said.
And although the Environmental Protection Agency refused a petition to ban the sale of these chemicals, the USDA has now said they think further investigation is warranted.
Tom Philpott, a reporter for Mother Jones, broke down the significant of last week's USDA decision to order more testing:
"What's going on here is that under the National Environmental Policy Act, all federal agencies, including USDA, are required to perform an EIS if there's a chance that a regulatory decision will affect the human environment. But for years, the USDA did not issue such analyses as part of its process of approving GMO crops, and watchdog groups like the Center for Food Safety have repeatedly and successfully sued the department for failing to do so," Philpott wrote.
"The immediate effect will be a substantial delay in any final decision on approval," added Philpott, who called the decision on the part of the Obama administration to delay a possible approval "such a surprise." Only weeks earlier, the president signed into law an agricultural spending bill that included a provision that provides biotech companies with liability from future lawsuits filed over possible health hazards brought on by unregulated and untested GMO products.
Before that bill was advanced out of Congress, farmers petitioned Washington to warn what that act could accomplish."The provision would strip federal courts of the authority to halt the sale and planting of an illegal, potentially hazardous GE crop while the US Department of Agriculture (USDA) assesses those potential hazards," they wrote. "Further, it would compel USDA to allow continued planting of that same crop upon request, even if in the course of its assessment the Department finds that it poses previously unrecognized risks."
In a statement delivered to Bloomberg this week, the Center for Food Safety said they saluted the USDA's decision, but warned that it won't necessitate an investigation as thorough as they'd like.
"While we welcome this decision, it remains to be seen whether the agency will undertake the required hard-look analysis of the environmental and economic impacts of these crops," Bill Freese, science policy analyst for the center, wrote in a statement.
The Biotechnology Industry Organization, a group that represents makers of biotechnology drugs and crops, said it was "disappointed" by the decision and that the action "sets bad precedent for future consideration of safe and beneficial genetically engineered plant products."
You can share this story on social media: