Digital currency exchange accused of biggest money laundering scheme ever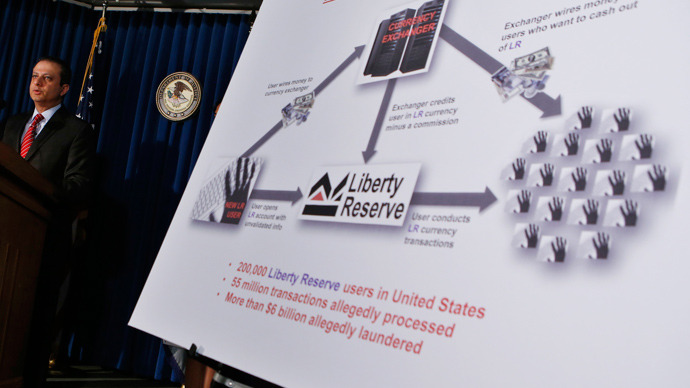 The United States government has shut down a digital currency website and jailed its executives for allegedly operating the largest money laundering scheme ever, considered by some to be "PayPal for criminals."
Costa Rica-based Liberty Reserve has been seized by authorities in the US following the unsealing of a federal grand jury indictment Tuesday that charged the website and its administrators with conspiracy to commit money laundering and conspiracy to operate an unlicensed money transmitting business by providing a means of channeling a currency without registering in the US. Law enforcement agencies in 17 countries assisted with the investigation.

In the complaint, Manhattan Attorney Preet Bharara said Liberty Reserve was structured "as a criminal business venture, one designed to help criminals conduct illegal transactions and launder the proceeds of their crimes."

"Its existence was based on a criminal business model," Bharara added at a Tuesday press conference.

Since 2006, Liberty Reserve has served as a portal for Internet customers to make anonymous financial transitions on the Web, but investigators say that service thrived on and encouraged illegal activity. Under the guise of a currency transferring site, authorities allege the executives of Liberty Reserve laundered billions of dollars and "facilitated global criminal conduct."

"This was really PayPal for criminals," a senior law enforcement official told the New York Times, equating Liberty Reserve as "a shadow banking system for criminal conduct" that was "able to facilitate all sorts of criminal conduct that would not otherwise happen."

Liberty Reserve allowed users to pay for goods and services using a digital currency that could not be traced back to a consumer such as with a credit card by allowing customers to create accounts using only a name, email address and date of birthday. Because the company did not verify the identity of its users, accounts could be created in any name. In exchange, the company took one percent for each transaction and for an additional 75 cents offered to hide a user's account number.

This, allege investigators, allowed Liberty Reserve to become in a matter of just a few years the international "financial hub" for identity theft, credit-card fraud, hacking, child pornography and narcotics trafficking.

"The defendants deliberately attracted and maintained a customer base of criminals by making financial activity on Liberty Reserve anonymous and untraceable," the indictment said.

An estimate one million users around the world have used the site for 51 million illicit transactions at a rate of more than 12 million transactions each year, authorities claim. In all, the site is accused of laundering over $6 billion.
 
Liberty Reserve's website went offline last Thursday and its main homepage was replaced with a Department of Justice notice that the United States Global Illicit Financial Team, a previously unknown association compromised of the US Secret Service, the Treasury and the Department of Homeland Security, had seized the site. 

"Liberty Reserve's virtual currency has become a preferred method of payment on websites dedicated to the promotion and facilitation of illicit web-based activity, including identity fraud, credit-card theft, online scams and dissemination of computer malware," the Treasury said in the statement that followed.

Arthur Budovsky, Liberty Reserve's founder, was arrested Friday in Spain on suspicion of money laundering. Four days later the indictment was unsealed and Bharara then made his remarks about the investigation.

Budovsky had previously operated a similar exchange site, GoldAge, but had that operation shut down in 2006 after being charged by American officials with operating an illegal financial services business. He then fled to Costa Rica while serving probation for his felony conviction, renounced his US citizenship and registered Liberty Reserve. When word of an investigation surfaced in 2011, Budovsky told authorities he shut-down Liberty's
Costa Rican operations. According to the indictment, though, the company actually continued to function and funds were cycled through a number of shell companies across the globe.

Security researcher Brian Krebs wrote on his blog Tuesday that the indictment has the potential to cause a "major upheaval" in the cybercrime economy. The charges against Liberty Reserve come just days after Mt. Gox, the biggest name in the Bitcoin cryptocurrency, had its assets seized by the federal government. The US Department of Homeland Security intervened in Mt. Gox's operations after a federal judge signed a warrant for the website on May 14 on suspicion of it being an unlicensed money transfer business, also because they failed to register in
the US. Liberty Reserve did not use Bitcoin in its transactions, instead relying on its own digital currency, the LR.

Authorities add Liberty Reserve co-founder, Vladimir Kats, was arrested in Brooklyn, New York as part of the complaint. At least three others have been arrested at this time, including one other man in Brooklyn and another in Costa Rica.

 

 

 

 

 

 
You can share this story on social media: