KKK wreaks havoc in Mississippi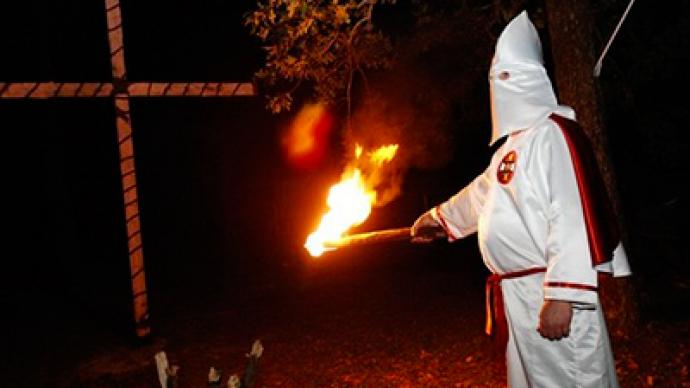 Authorities down in Mississippi are suggesting that a pair of recent acts of vandalism might be connected in Copiah County and could signal a resurgence in some good ol' fashion southern hate crime.
Reverend Dr Willie Jones, a black pastor that preaches in the southern community around 50 miles east of the Mississippi River, woke up on Wednesday to find his television set shattered. An early morning shotgun blast had penetrated the window of his home on US Route 51 and damaged his TV and the brick façade of his Crystal Springs, MS home.Hours earlier, Rev. Jones says he was attending a Democratic fundraiser with a white candidate, John Goza, whom he has been supporting throughout the campaign. By the time Rev. Jones woke to see his living room in disarray, three large campaign signs reading "Elect John Goza Sheriff" had been tagged with black spray-paint to say "K.K.K.""It is very sad that in 2011, some of us in Copiah County and the state of Mississippi have not changed," Rev. Jones tells a local ABC affiliate. "(I would think) that we would have come a lot further than we have come now."Goza added to the Clarion Ledger that he didn't expect hate crimes to still occur in his southern Mississippi town in this day and age. "It's 2011," Goza says. "I would have thought we would have moved beyond threats and fear tactics.""People lived and died for our right to vote, and now I can't support the candidate of my choice without being terrorized?" echoes Jones. "Apparently they're trying to take us back to the 1960s."Civil rights activist Medgar Evers was gunned down in front of his Jackson, Mississippi home in 1963 hours after President John F Kennedy gave a speech in support of equality; Evers was wearing a "Jim Crow Must Go" t-shirt when Klansman Byron De La Beck killed him. Beckwith was finally convicted of the crime in the 1990s after more than 30 years of living free. An all-white jury couldn't convict him, despite being tried twice for murder, back in '64. In one of those trials, then-Gov. Ross Barnett interrupted the court proceedings to shake hands with Beckwith at one point.KKK initiatives in Mississippi that decade also included the '66 firebombing of a NAACPP leader conducted by an ex-Klan wizard, the murder of two black teenagers by an alleged Klansman and ex-Mississippi cop, and the murders of three civil rights workers that also took ages before a manslaughter verdict could be reached.Goza is up against another white candidate, current sheriff Harold Jones (no relation to the reverend), who has spoken out against the assailants. "It's stupid for stuff like this to go on," says the sheriff. its stupidity in its rarest form," he adds to a local NBC network.Believed to be a hate crime, the Federal Bureau of Investigation is being asked to look into the incidents. The 2000 US census revealed the proportions of African Americans to whites in Copiah County to be almost equal, with blacks making up 50.95 percent of the population. Reverend Jones strongly believes that the incidents were linked, and said that, in regards to the dinner he attended with Goza earlier in the day, "I don't think this would have happened if someone hadn't seen us together."Earlier this year, the Mississippi sect of the Sons of Confederate Veterans began petitioning to have a portrait of Civil War general Nathan Bedford Forrest appear on a specialty license plate to be made available in the state in 2014. In addition to playing a pivotal role in the southern army, Gen. Forrest was an early proponent of the Ku Klux Klan .
You can share this story on social media: