Minorities more optimistic about US economy than whites for first time in decades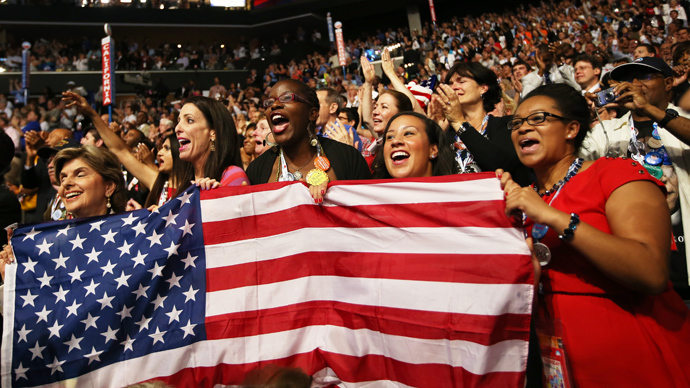 Blacks and Hispanics have higher levels of optimism than white Americans, despite being hit hardest by the most recent recession and suffering higher poverty rates.
While white pessimism about their economic future is at a 25-year high, minorities now outpace their optimism levels for the first time since at least 1987, according to an analysis by the Associated Press-NORC Center for Public Affairs Research.
In 2005, blacks as a group lost 43 percent of their net worth, while whites only lost 15 percent. Regardless, minorities have a more positive outlook on their current and future financial situations, while whites have experienced record-breaking levels of hopelessness. 
The survey analysis found that 46 percent of white Americans believe their families stand a good chance of improving their living standard, while 71 percent of blacks and 73 percent of Hispanics anticipate a brighter economic future. The gap between whites and minorities in terms of their outlook on life is the widest it has been since AP began conducted the surveys more than two-dozen years ago.
The survey also found that African-Americans are more content with their current financial situation than any other race groups. For the first time since 1972, the number of black Americans who said their finances had recently improved surpassed whites.
Mark Mellman, a veteran Democratic consultant who closely tracks voter sentiment, told AP that the increase in minority optimism likely stems from the fact that the country elected a black president – a fact that provides African-Americans with hope, despite the fact that the economy has plummeted.
"In the minority community, as perceptions of discrimination lessen a bit with the election of an African-American president, people see a greater ability to succeed," he said. "Many working-class whites, on the other hand, see dwindling opportunities as manufacturing and other jobs that once enabled them to get ahead just aren't available."
In the early 1970s, about a quarter of Americans worked in manufacturing – an industry that was widely perceived as opening the doors to a middle-class lifestyle.  But the recession reduced available manufacturing jobs, and today, only 9 percent of Americans work in this sector, the Bureau of Labor Statistics reported late last year.
William Julius Wilson, a Harvard professor specializing in race and poverty, told AP that the struggling economy has affected uneducated and lower-skilled whites and minorities equally. But while blacks continue to experience the "powerful symbolic effect" of living in a nation with a black president, lower-skilled whites lack "positive subjective feelings to offset or blunt their frustrations."
Eugene Lester, a mining employee from Buchanan County, Va., embodies some of the fears expressed by working class white Americans. He witnessed the job market shrink and the poverty rate increase, and incessantly fears the prospect of one day losing his job.
"It's scary as hell; I'm afraid every day to go out to work and not have a job," said the 35-year-old father of two. "I remember when I was growing up, my dad, he could quit a job this morning and be working on another by12:00."