US military dumps soldiers' remains in landfill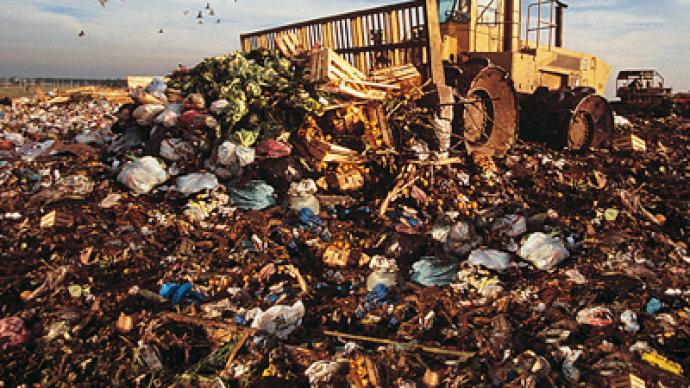 If you're looking to visit the sacred grounds where the remains of a love one lost at war is entombed, be sure to bring a hazmat suit. The military has been dumping the ashes of cremated soldiers in a suburban Virginia landfill.
An investigation last month left with fingers pointed promptly at the Dover Air Force Base mortuary in Delaware, where America's war dead are sent for processing after losing their lives in Afghanistan and Iraq. A probe conducted by the Washington Post revealed that the mortuary had been cremating soldiers and dumping their remains in a landfill.The US military said at first it would "require a massive effort and time to recall records and research individually" and refused to offer an estimate, but following urging from both Capitol Hill and concerned families, the Defense Department has delivered a tally.Between 2004 and 2008, the DoD says that, officially, it sent the remains of 274 troops to the King George County landfill, around 70 miles due south down the Potomac from the Pentagon. In all, reveal officials, over 2,700 fragments of body parts were dumped on the site.According to the landfill's website, household trash, appliances and used tires that have been removed from the rim are accepted for deposit, with used anti-freeze, car batteries and used motor oil accepted for recycling.When the Pentagon first said it didn't have the time or resources to investigate how many body parts went missing, Rep. Rush D. Holt (D-N.J.) had three questions for the DoD: "What the hell?""We spent millions, tens of millions, to find any trace of soldiers killed, and they're concerned about a 'massive' effort to go back and pull out the files and find out how many soldiers were disrespected this way?" he asked the Post. "They just don't want to ask questions or look very hard.""My only peace of mind in losing my husband was that he was taken to Dover and that he was handled with dignity, love, respect and honor," widow Gari-Lynn Smith adds to the Post. "That was completely shattered for me when I was told that he was thrown in the trash."Smith had spent four years writing the Army about the whereabouts of her husband, who was killed in Iraq. Only this year was she informed that the military dumped him in the trash."I hope this information brings some comfort to you during your time of loss," reads the official letter from mortuary director Trevor Dean in April. "They have known that they were doing something disgusting, and they were doing everything they could to keep it from us," she tells the Post.Smith says that Dean told her that incinerated remains had been going to the landfill since at least 1996, but records made available by Dover only cover the span between 2004 and 2008.
You can share this story on social media: