Big Brother tax: US roads to be funded by tracked cars?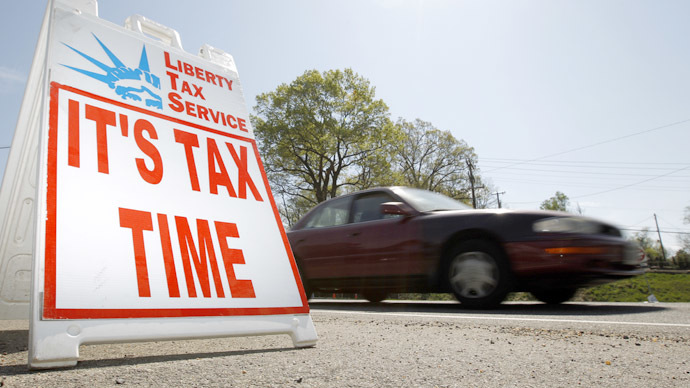 Black boxes installed on cars in the US may soon track all their movements to determine how much wear they cause to American roads and, thus, how much each owner should pay. Adoption of the scheme however is being held back by privacy concerns.
Maintaining roads in America currently relies on a gas tax, which is paid by motorists as they fill their tanks at pumps. However the cash flow is steadily drying up as cars become more fuel efficient and with authorities reluctant to raise tax rates. The advancement of hybrid and electric cars is also causing this means of taxation to be perceived as unjust.
Taxing per mile is one possible solution, however, the federal government is reluctant to proceed with it. A $90-million pilot project involving some 10,000 cars was approved by the Senate two years ago, but was axed by the House.
But some states are more enthusiastic. For instance California is planning to tax every motorist in the state by mileage by 2025, reported on Saturday Los Angeles Times.
"This really is a must for our nation. It is not a matter of something we might choose to do," told the newspaper Hasan Ikhrata, executive director of the Southern California Association of Governments. "There is going to be a change in how we pay these taxes. The technology is there to do it."
Oregon so far is the most eager. It launched a pilot vehicle miles traveled (VMT) tax project as early as 2007 and currently has 5,000 cars taxed by their mileage in a follow-up experiment. A similar if smaller-scale test was conducted in Nevada, and New York City is considering one.
Privacy concerns remain a big hurdle. A black box device tracking mileage is usually not just a simple odometer, but a GPS-enable device, which tracks the location of a car in real time. This allows the use of different tax rates for different kinds of roads, and also for the splitting of taxes fairly for drivers who cross state borders. They can also be used for extensive surveillance, privacy advocates warn.
"It would be fairly easy to turn these devices into full-fledged tracking devices," warned Nevada's branch of the American Civil Liberties Union as the trial was underway in the state. "There is no need to build an enormous, unwieldy technological infrastructure that will inevitably be expanded to keep records of individuals' everyday comings and goings"
Some states want do address those fears by offering less-invasive devices, which don't use positioning to track mileage, or offering to pay a state-average tax. Others believe they can appease the fears by offering extra value to driver, allowing the black boxes to provide "pay-as-you-drive" insurance, pay parking meter fees, and warn of traffic jams.
There are alternatives to per-mile taxing, which would not discriminate in favor of hybrids. For example money for road maintenance could come from taxing tires. 
A conservative approach would be to simply raise the gas tax and replenish depleted road funds.
"There is no need for radical surgery when all you need to do is take an aspirin," said Randy Rentschler from the Metropolitan Transportation Commission in the San Francisco Bay. "If we do this, hundreds of millions of drivers will be concerned about their privacy and a host of other things."