Microsoft starts selling anti-Google merchandise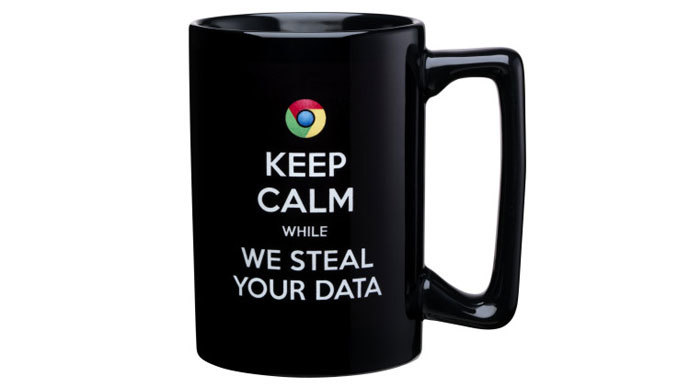 A mean-spirited ad campaign launched by Microsoft against competing Silicon Valley giant Google is heating up upon the release this week of official "Scroogled" merchandise mocking their rival's not-so-keen privacy reputation.
Microsoft has accelerated their anti-Google "Scroogled" campaign with the official opening this week of an online store that offers customers an opportunity to purchase products that point the finger at their high-profile competitor.
The Scroogled online store is currently limited in inventory, but already boasts a number of products that get their point across — namely t-shirts, hoodies and coffee mugs that mock the search engine titan and its tendency to exploit user data in order to make money.
"Keep Calm While We Steal Your Data" reads one slogan that customers can order on either a t-shirt or mug, the latter advertised as "Perfect for anyone who's fully caffeinated and tired of being Scroogled."
Another product, the "Scroogled Word Cloud" t-shirt, contains "over 20 synonyms for how Google is taking advantage of you," according to Microsoft. Among them are Gulled; Humbugged; Buffaloed; Wire-tapped; Extorted; Sold out; Chicaned; Fleeced; Scammed; Conned; Surveilled; Double-dealt; Ensnared; Suckered; Sandbagged; Gossiped; Scandalmongered; Flimflammed; Skullduggered; Bamboozled; Hornswoggled; Beguiled; Cheated; Fooled; Double-crossed; Defrauded; Hoodwinked; Swindled; and Duped.
"They're all just synonyms for being Scroogled – and you can get them all on this American Apparel 50/50 t-shirt," Microsoft advertises. Shirts start at only $11.99 and are now available for ordering.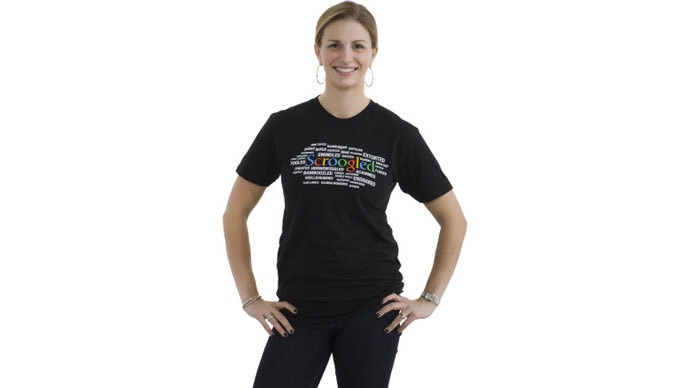 The opening of the Scroogled store does not mark the start of the peculiar Microsoft-run campaign, but is rather the latest effort from Bill Gates' brainchild to try and take advantage of their rival's propensity to pry sensitive data from its search engine and Gmail customers, and then use that to target specific individuals for ads and other campaigns. It also comes just days after Google agreed to pay a $17 million settlement after they were found to have bypassed privacy settings in the Safari web browser in order to track the online history of customers.
"The Scroogled campaign has struck a chord with consumers," a spokesman for Microsoft told the Wall Street Journal. "The Scroogled gear is a fun way for them to do that."
Google was quick to respond, mocking Microsoft's effort as the company's foray into the world of wearable technology, which Google has already successfully embraced as evident with their Google Glass product.
"Microsoft's latest venture comes as no surprise: competition in the wearables space really is heating up," a Google spokeswoman added to reporters.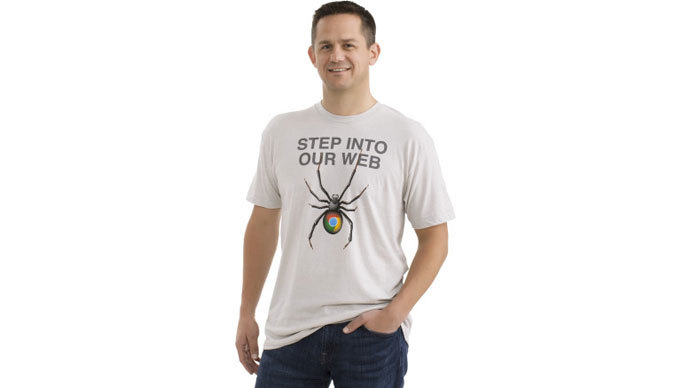 Meanwhile, outgoing Microsoft CEO Steve Ballmer referenced his company's intention to avoid encroaching on their customer's privacy during a meeting on Tuesday with shareholders.
"We all want to live in a country and a world that's safe and secure, but it is a business imperative that we retain the customers' trust in every country around the world," Ballmer said, according to Escapist Magazine. "We take a lot of pride at Microsoft about the care we take to respect the privacy concerns of our customers ... Across our industry there are some [who] seem rather bent on trying to use every single piece of personal information they can get so they can target you with more ads."
That isn't to say that Microsoft hasn't been linked to such sordid activity in the past, either. Both Microsoft and Google were named by National Security Agency contractor-turned-leaker Edward Snowden in recently disclosed classified documents in which those companies were linked to the NSA's PRISM program, an operation that allowed intelligence operatives to gather user data straight from the entities' servers. Even before the Summer of Snowden, however, the Microsoft-owned Skype program was accused of giving their parent company the ability to "silently copy communication transmitted via the communication session" without asking for user authorization.
You can share this story on social media: