Is Microsoft eavesdropping through Skype for the feds?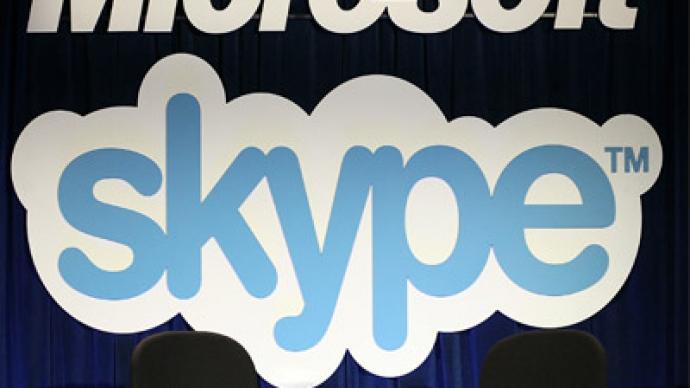 Are your Skype calls safe from the eyes and ears of snooping feds? Microsoft has filed a patent to allow eavesdropping over Skype and other VOIP platforms, but the Silicon Valley giants won't say whether or not they are already implementing it.
Microsoft acquired the popular voice-over-IP program Skype in May 2011 for an astounding $8.5 billion, but the news between the world's most popular VOIP service and the legendary Silicon Valley entity doesn't end just there. Barely a year later, Microsoft was awarded a patent last month that allows them to roll-out undetectable eavesdropping tools to target the communications of its customers without them ever knowing. According to the paperwork Microsoft has filed with the US Patent and Trademark Office, the ability to silently record communications between Skype users is necessary in instances where law enforcement agencies and national governments may demand to listen in on or even watch conversations in real time that are otherwise believed to be between just two parties. Their patent for "legal intercept" technology was approved last month, essentially awarding Microsoft the ability to "silently copy communication transmitted via the communication session" without asking for user authorization. Does that mean that Bill Gates' brainchild and the feds are already using it to work hand in hand, though? Microsoft has been asked repeatedly to acknowledge whether or not that's the case, but so far they have yet to offer either an explanation or answer.When called on to provide reasoning for the rumored restructuring of their VOIP interface, Skype Corporate VP of Product Engineering & Operations Mike Gillet told ExtremeTech.com that adjustments with how data was transmitted through so-called "supernodes" were only an added step to "improve the Skype user experience" and shrugged off allegations that it was being done to facilitate law enforcement requests — despite their wiretap patent being approved weeks earlier. As news of their "legal intercept" technology makes its rounds around the Web, though, critics are not ceasing their questions for Microsoft.Last week, a reporter for Slate wrote that he took up the question again — over and over — with Skype, only to be ignored by the company altogether:"Skype rejected the charge in a comment issued to the website Extremetech, saying the restructure was an upgrade and had nothing to do with surveillance," writes Ryan Gallagher for Slate. "But when I repeatedly questioned the company on Wednesday whether it could currently facilitate wiretap requests, a clear answer was not forthcoming. Citing 'company policy,' Skype PR man Chaim Haas wouldn't confirm or deny, telling me only that the chat service 'co-operates with law enforcement agencies as much as is legally and technically possible.'"Until Microsoft and Skype are upfront about what they are doing with their latest technology, it is up to the user to make an educated guess every time they log on and make a call. Even if Skype isn't implementing their "legal intercept" patent yet, that doesn't necessarily mean that their users are safe from the government's goons, either. If the federal government successfully argues with Microsoft the same way they've done with traditional telecom companies as of late, they very well could do as they like with the thought-to-be private conversations.On top of the recent revelation that the National Security Agency asked for phone records for 1.3 million Americans only last year, the NSA has refused to discuss with even Congress how many Americans it has spied on through provisions made in 2008 to the Foreign Intelligence Surveillance Act (FISA), a legislation that allows the government to dig through correspondence that they believe is being sent overseas. Just last week, the Wall Street Journal also broke the story that the FBI has sued an anonymous telecommunications company that challenged its demands to hand over private user data without a warrant.  And to say that Skype isn't already being infiltrated by the government raises additional points on its own — earlier this year the FBI alleged that they came into possession with Skype instant-messaging logs between Megaupload.com founder Kim Dotcom and his top associates at the file storage site. The bureau said that they had records going back as far as five years, but the FBI-spearheaded investigation began only months earlier; according to Skype's terms of service, data is only held on their servers for 30 days, suggesting that the FBI may have circumventing Skype's official user policies so that they could play by their own rules.Now with their latest patent, the 663 million registered users of Skype might have their VOIP calls monitored. At least now they'll at least be aware of it. Kind of.
You can share this story on social media: