Lawmaker threatens to throw reporter off of Capitol balcony after State of the Union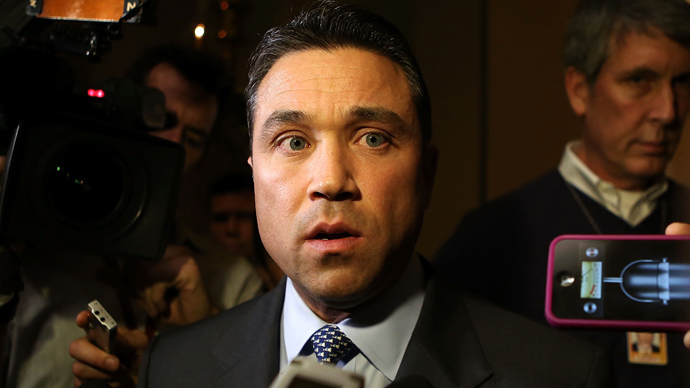 A United States lawmaker confronted a reporter and threatened to throw him off of a balcony during an interview following President Barack Obama's State of the Union address Tuesday evening.
New York Rep. Michael Grimm (R) was being interviewed by local news station NY1 when he was asked about allegations concerning a federal probe into his campaign finances. Grimm refused to answer the question and quickly walked away from the camera, but the story far from ended there.
Moments later, Grimm returned and got into the face of reporter Michael Scotto, verbally berating him for asking a question unrelated to the State of the Union speech. Despite Scotto's assertion that he was asking a valid question, Grimm threatened to throw Scotto over the balcony and "break [him] in half."
The entire incident was captured by NY1's cameras:
Here's a transcript of the exchange, courtesy of NY1.
Grimm: "Let me be clear to you, you ever do that to me again I'll throw you off this f-----g balcony."
Scotto: "Why? I just wanted to ask you..."
[[cross talk]]
Grimm: "If you ever do that to me again..."
Scotto: "Why? Why? It's a valid question."
[[cross talk]]
Grimm: "No, no, you're not man enough, you're not man enough. I'll break you in half. Like a boy."
Shortly after the confrontation, Grimm released the following statement:
"I was extremely annoyed because I was doing NY1 a favor by rushing to do their interview first in lieu of several other requests. The reporter knew that I was in a hurry and was only there to comment on the State of the Union, but insisted on taking a disrespectful and cheap shot at the end of the interview, because I did not have time to speak off-topic.
"I verbally took the reporter to task and told him off, because I expect a certain level of professionalism and respect, especially when I go out of my way to do that reporter a favor. I doubt that I am the first Member of Congress to tell off a reporter, and I am sure I won't be the last," Grimm said.
For his part, NY1 Political Director Bob Hardt called Grimm's behavior "extremely disturbing" and demanded an apology from the Congressman.
Earlier this month, the FBI arrested Diana Durand – Grimm's ex-girlfriend – and charged her with making illegal financial contributions to the lawmaker's campaign through straw donors. She donated the maximum amount of $4,800 permissible under current law, but then allegedly told four other individuals she would reimburse them if they made their own donations. Durand reportedly funneled more than $10,000 to Grimm's campaign illegally.
Grimm himself has not been implicated in the scandal, though the Washington Times reports that he is under investigation for possibly asking for money from foreign donors.
As for Grimm's threat to toss Scotto over the balcony, the reporter said he is taking the situation in stride.
"I don't believe the substance of the threat at all. I mean, I'm not taking it personally," Scotto told CNN's "New Day" on Wednesday, according to Politico. "I just think he was angry by the fact that I asked that question, and I think he was even more angry by the fact that I kind of explained to viewers why he was not going to answer that question. … It goes with the territory."
You can share this story on social media: