Skyrocketing meningitis infections victimize 91 US patients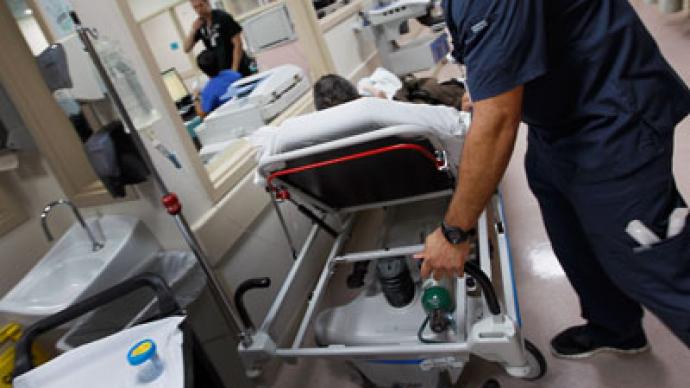 A deadly meningitis outbreak has swept across parts of America, killing seven people and leaving 91 ill. The number of infections, caused by contaminated steroid injections, has more than doubled since Friday.
The Center for Disease released the updated data at 2 pm local time (ET) Sunday, which demonstrates an alarmingly high rate of infection. On Friday, the fungus had infected only 35 Americans – but within two days, an additional 56 patients began to show symptoms.The source of the fungal infection has been traced to a compound pharmacy in Massachusetts, which mixed drugs for steroid injections. The shots were then administered by 76 health clinics in 23 US states, often to patients experiencing back pain. The New England Compounding Center, which mixed the infected drugs, sold 17,676 vials of the injection. It has now shut down its operations and issued a recall of the vials, but for some the measure came too late.By Saturday, seven people had died from the deadly disease and 57 were showing symptoms. One of the first victims of the October outbreak was Eddie C. Lovelace, a 78-year-old Kentucky judge who sought out steroid injections for neck pain relief after a car accident."This wasn't some obscure procedure being done in some obscure hospital," Tom Carroll, a family friend of the victim, told the New York Times. "They had sought out a respected neurosurgeon who had been referred by their family doctor, at a respected hospital."Many Americans who received the Depo-Medrol injections are worried they may be at risk of developing meningitis. But all they can do is wait to see if they develop symptoms."Sure I'm apprehensive, but there's not a thing I can do except wait and see what happens," 81-year-old Richard Jenkins, who received his most recent shot on Sept. 11, told the Associated Press.The CDC is in the midst of an ongoing investigation to determine how many people received the epidural steroid injections. Meningitis cases have so far been found in Tennessee, Virginia, Michigan, Indiana, Florida, Maryland, North Carolina, Minnesota and Ohio. Tennessee has so far seen the most cases of the disease. The state is host to 32 victims, three of which have died. Meningitis targets the brain and spinal cord. The most common form of the disease is viral, but the nationwide outbreak is fungal – the form most difficult to treat and most devastating to patients. This type of bacterial meningitis is rare, but deadly – often leading to stroke, brain damage and death. Symptoms include fever, dizziness, nausea, headaches, and a stiff neck.