​Medical misdiagnosis affects 12 million Americans a year – study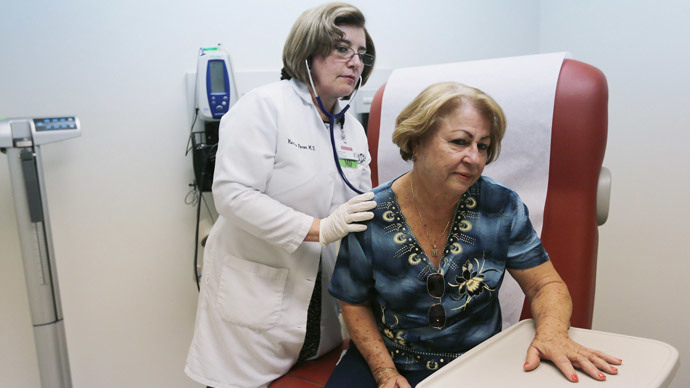 Around one in every 20 adults who seeks medical care in a US emergency room or community health clinic receives a misguided diagnosis, a new study found, estimating that 12 million Americans a year are affected by erroneous medical conclusions.
Of those misdiagnoses, about six million could prove harmful to patients with delicate or serious conditions, according to lead researcher and patient safety expert Dr. Hardeep Singh, of the Veterans Affairs Center for Innovations in Quality, Effectiveness and Safety.
The study, published Wednesday in the journal BMJ Quality and Safety, is the first to offer vast population-level data on wrong outpatient assessments. Investigating misdiagnoses is difficult, as researchers use different definitions for such mistakes, and it is not easy to track medical cases from an array of providers over time.
Singh and his colleagues utilized data from three previous studies that focused on patterns of return visits to primary care providers, the relative lack of follow-up after finding abnormalities related to colorectal cancer, and consecutive cases of lung cancer. The data was based on electronically-flagged record errors at two large health care systems in 2006 to 2007 and reports of lung cancer at the two systems. Analytical definitions and estimates were consistent, as Singh's own researchers conducted the past studies.
They found that in just over five percent of cases, an original diagnosis was off, though it could have been detected by the information available during the first meeting.
"It is surprising — five percent," Singh said, according to NBC News. "Yet on the other hand, this evidence has been coming together."
Previous studies have predicted the rate of misdiagnosis might be as high, NBC News reported, though some believe that five percent is still a conservative estimate.
"I think [Singh's study] does give us a good a hard number. Previously, we had softer numbers," Dr. Gordon Schiff, a patient safety expert at Brigham and Women's Hospital in Boston, said. "But the numbers probably overlook other error activity. I would say this is a minimum."
Misdiagnoses occur, Singh said, for a variety of reasons. Time with patients is often limited and symptoms can be complex, especially amid a "fairly chaotic outpatient environment," he said. Doctors often lack support and technical help that could help the process, he added.
You can share this story on social media: