Worldwide protests planned on eve of Bradley Manning trial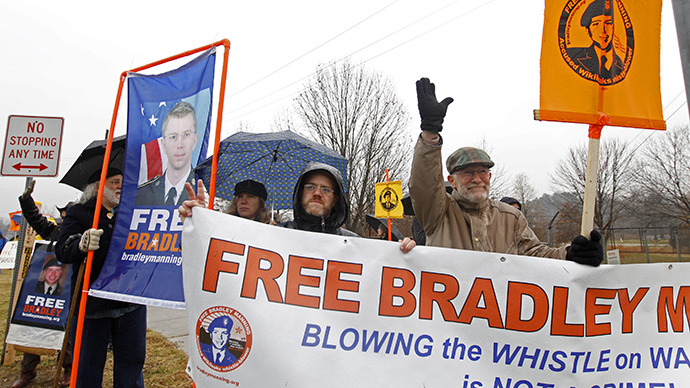 Rallies are planned this weekend in dozens of cities across the globe in support of Private first class Bradley Manning as the former Army intelligence analyst prepares to stand trial for the largest intelligence leak in United States history.
The military court-martial against the 25-year-old soldier begins Monday in Ft. Meade, Maryland and is expected to continue throughout the summer. Manning faces a life in prison if convicted of the most serious of the counts against him — aiding the enemy — but presiding judge Col. Denise Lind previously said she'd credit the alleged leaker with 112 days due to the egregious conditions he endured while held for roughly nine months in a US Marine brig.
Manning is charged with uploading hundreds of thousands of sensitive documents to the anti-secrecy website WikiLeaks, including US State Department diplomatic cables, war logs from Iraq and Afghanistan and detainee assessment files for men held at the military's controversial Guantanamo Bay prison. He admitted to leaking the documents during pretrial testimony presented in February. Army prosecutors say al-Qaeda in the Arabian Peninsula benefited by WikiLeaks' publishing of the documents, and a member of the Navy SEALs team that executed the lethal raid on Osama bin Laden's Abbottabad, Pakistan compound is expected to take the stand during a closed-door court hearing in the coming weeks.
Last week marked three years to the day since Manning was captured by US authorities in Iraq while on duty and brought into custody. He spent nearly two months inside of a cage in Kuwait before being transferred to Quantico Marine Base in Northern Virginia, where for most of a year he was subjected to treatment considered by a United Nations special rapporteur to be tantamount to torture. He has spent the last two months imprisoned at an Army facility in Leavenworth, Kansas, though he's been carted to-and-from Ft. Meade outside of Baltimore since December 2011 when his pretrial hearings began.
Supporters of the soldier and his defense counsel asked the court to drop charges against the soldier not just due to the conditions at Quantico but because of the more than 1,000 days he's been held in pretrial confinement. Demonstrators will gather at Ft. Meade on the eve of the court-martial and at other sites around the globe this weekend to pay tribute to a man hailed as a whistleblower by some but condemned by the country he swore to protect.
Demonstrations have been held at Quantico, Ft. Meade and other sites since Manning was apprehended in May 2010, but organizers of this weekend's event near the military court expect it to be the largest of its kind ever. Rallies elsewhere will occur on at least four continents.
Daniel Ellsberg, a former Department of Defense employee who infamously leaked the Pentagon Papers during the Vietnam War, is expected to speak at Ft. Meade on Saturday and in nearby Washington, DC on Sunday.
"Americans who care about the future of our country need to be involved in Bradley's defense," Ellsberg wrote in a statement this month. "The defining issues of the twenty-first century, including the transparency and accountability of our government, are at stake. I believe history is on the side of those who seek to reveal the truth, not on the side of those who seek to conceal it."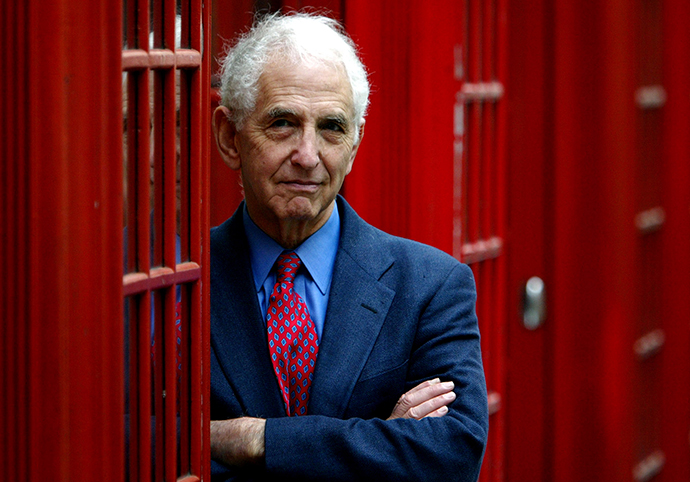 Organizers expect as many as 1,000 supporters at Saturday's rally at the Army base, and the military acknowledged this weekend that the number of press credential requests submitted for the trial is five times what Ft. Meade's media center can accommodate. Offsite, however, rallies are expected to be held in more than two dozen major American and international cities.
On June 1, events in Australia, Canada, Germany, the UK, Italy and South Korea will coincide with the rally outside of Ft. Meade as well as others planned in cities across the US.
Busses will bring supporters from all over the US to Ft. Meade on Saturday for a march from the gates of the facility to an offsite location where Ellsberg will be joined by a number of other well-known advocates of the soldier, including former State Department official Col. Ann Wright and anti-Don't Ask Don't Tell activist Lt. Dan Choi.
In London, Manning supporters will gather outside the US Embassy to rally in support. The Consulate General of the United States will be the site of a similar event in Toronto, Ontario, as will the US embassies in Rome, Italy and Seoul, South Korea. At least 20 events will occur in just the US on Saturday, including protests in city parks and military bases, and demonstrators in Toledo, Ohio will march in support of Pfc. Manning during the historic King Wamba Parade in Toledo, Ohio. Other gatherings are planned internationally when the court-martial begins on Monday as part of an International Solidarity Week of Action organized by the Bradley Manning Support Network.
"Bradley believed that the American people have a right to know the truth about what our government does around the world in our name. We will send a message to the military prosecuting authority, and President Obama, that Bradley Manning is a patriot and heroic truth-teller," the Support Network wrote of the events.
On Sunday, Ellsberg will join attorney Michael Ratner and others at a church in Washington to speak about the case. Ratner is the president emeritus at the Center for Constitutional Rights and serves as the American attorney for Julian Assange, founder and publisher of WikiLeaks. Assange has been inside of the Ecuadorian Embassy in London for 11 months in order to avoid extradition to Sweden where he is wanted for questioning in regards to allegation of sex crimes.
Last week, Assange spoke to Democracy Now! about the US government's allegation that Manning aided the enemy by going to WikiLeaks.
"If that precedent is allowed to be erected, it will do two things. Firstly, it means it's a potential death penalty for any person in the military speaking to a journalist about a sensitive matter. Secondly, it also embroils the journalist and the publication in that chain of communicating, they would say, to the enemy, and therefore making them susceptible, as well, to the Espionage Act, which also has capital offenses. And that is part of the US — that latter part is part of the US attack on WikiLeaks, including myself," Assange said.
Manning is charged with violating the Espionage Act, aiding the enemy and a number of other counts. He pleaded guilty to lesser offenses earlier this year carrying a possible 20 year prison sentence, but the Army said they'd continue to pursue all charges.
You can share this story on social media: