McChrystal returns to public service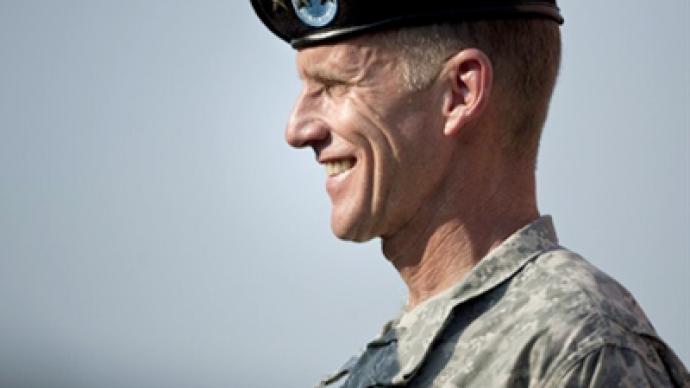 US Gen. Stanley A. McChrystal, who was sacked from command in Afghanistan following a Rolling Stones magazine interview, has been asked by the Obama administration to return to service.
The embattled general boasts a precarious human rights record. Having led the US fight in Afghanistan with thousands of lives lost and a number of Afghans alleging torture and mistreatment at the hands of soldiers under his command, McChrystal is seen as a man with a colorful past; accusation range from targeting civilians to interrogations at the infamous Bagram prison. Prior to his time in Afghanistan McChrystal led the controversial elite US Special Operations units.On top of his combat record McChrystal is known for his off the cuff remarks in an interview with Rolling Stone Magazine. The general made derogatory comments towards Obama administration officials and criticized their actions. He and his subordinates even mocked US Vice President Joe Biden.However, McChrystal is once again being called on by US President Barack Obama to serve. The general will lead a three-member board of an initiative called Joining Forces. The new Obama initiative is aimed at US military families, working to bring companies, schools, charitable, communities and religious organizations together to help the families of US military members and veterans. McChrystal's lead in the new initiative is set to be officially announced on April 12 by First Lady Michelle Obama and Jill Biden, the wife of Vice President Joe Biden. "He will be a unique and powerful advocate for the millions of Americans who serve our country selflessly," Mrs. Obama wrote in a recent email announcement. "This program will build upon our nation's great patriotism by asking all Americans to take action and ensure our military families have the support they have earned.""This program will be a chance to focus people's attention on ways they can help, and on the importance of helping, and provide opportunities for people to find practical things to do to support military families," McChrystal noted in a recent interview. Assisting military families will be a sharp contrast from his past duties, considering he once ordered soldiers into combat while their families worried at home.
You can share this story on social media: