Mayor Jean Quan wants OWS to disown Occupy Oakland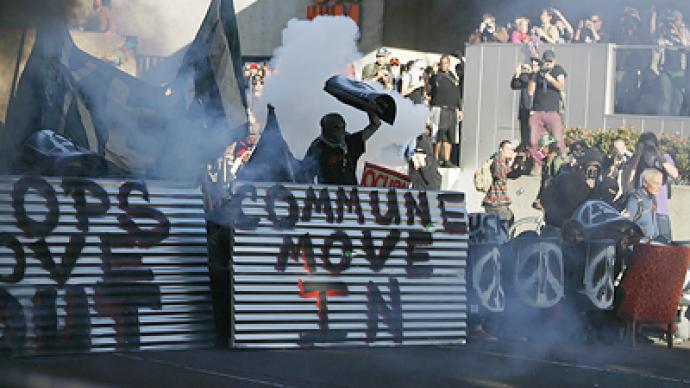 In Oakland, California where the Occupy Wall Street movement has spawned a series of intense demonstrations, Mayor Jean Quan has run out of ways to try and put out the flames of the fiery protests.
As Occupy Wall Street shows no signs of slowing down — and some say Saturday's march in Oakland only added momentum to the movement after hundreds were arrested — Mayor Quan continues to be clueless on how to handle the demonstrations. Now the city leader is appealing to other Occupy movements across the country to disown Occupy Oakland in hopes of finally extinguishing the demonstrations that have scarred her administration due to overzealous arrests and the repeated firing of projectiles at peaceful protesters.On Saturday, around 400 Occupy Oakland protesters were arrested by the OPD after a march through the city turned violent. For hours, police fired tear-gas and non-lethal projectiles into crowds of protesters, kettled demonstrators with nets and issued massive arrests on as many occupiers as they could. The aftermath, specifically the tally of arrests, were picked up by the mainstream media. Even before the weekend's incident, however, Mayor Quan told a local television station that she was sick and tired of the movement. As opponents of her administration continue to call her out on her lackluster handling of the demonstration, Quan says she will call on other Occupy movements to help calm the protests in Oakland."I plan to call some of the national leadership of Occupy this week to say that the Oakland group is not nonviolent and has not agreed to be nonviolent," Quan tells KCBS. "The national Occupy movement has said they are nonviolent."Unfortunately for Mayor Quan, the national Occupy movement has by-and-large agreed (and insisted) several times that they are leaderless, so she might have a hard time trying to track them down.Also according to the mayor, ongoing protests in Oakland have caused millions of dollars to the city by forcing her to up police presence to monitor the demonstrations. As her popularity wanes and she tries to find ways to salvage her administration, Quan tells KCBS that the protests are drying up the city's funds. In addition to alleged acts of violence, Quan adds that the city is financially being ravaged due to her attempts to handle the movement."What they are doing against the city economically is not nonviolent either," she says. "Every Saturday they are doing demonstrations and in my city that is my night of highest police need. They are taking away resources from my city and creating a situation that is making it more difficult for me to keep the city safer."As the protests continue, many occupiers have said that the city has been the one acting violently. In the early days of Occupy Oakland, an Iraq War veteran was critically injured after being hit in the skull by a police-fired projectile. On Saturday's march, law enforcement once again fired ammo into crowds of protesters and were videotaped swinging batons at protesters and journalists alike. As demonstrators declare their intentions with chants of "this is a peaceful protest," Mayor Quan sees it from another side. When KQED-TV reporter Scott Shafer compared the opposition to her administration with that of other California mayors who have handled Occupy protests differently, Quan called it a game of media misrepresentation. "I think it is how the media plays it," says Quan.Also to blame, she says, is "probably a little misogyny and a little racism." When Shafer quizzed Quan on if she, an Asian woman, felt like she was being attacked for her background, she said she had to change her Facebook settings to keep from seeing inappropriate content directed towards her.While insisting that the media has turned her into a terrorist by calling in throngs of cops to crush protesters, Mayor Quan at the same time says that the movement is using the mainstream media to pick up steam. "One of the problems is that the Occupy demonstrators have decided that Oakland is their one and only playground and target," she tells KCBS. "It is because of their tactics that this group is getting smaller and smaller, they are trying to get national publicity on this." While publicity has indeed been bestowed on Occupy Oakland, the movement has far from been squished. While demonstrations have been diminishing in size, they are still occurring across the country and the world. Only one day after Saturday's march in her own city spurred outrage, hundreds of protesters took to the streets in both Chicago and New York to show solidarity. On Monday, hundreds flocked to two separate sites in the nation's capital to support Occupy DC.
You can share this story on social media: