New riot shields will suffocate protesters with sound waves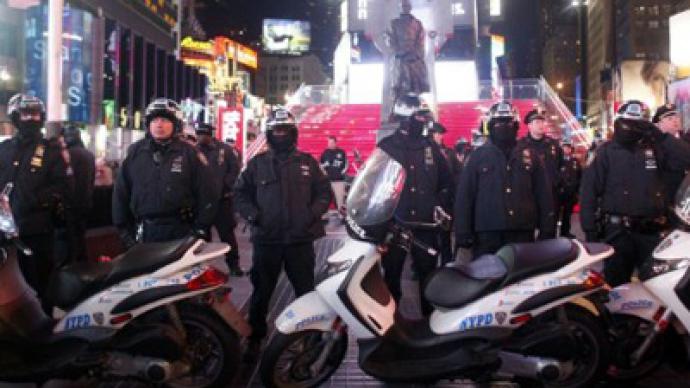 Law enforcement can already beat protesters with batons, spray subversive chemicals into their eyeballs, shoot rubber bullets at a speed of around 100 yards-per-second and blast deafening sound bursts.
Why, then, shouldn't they be stop a person from breathing?That's the very question that Raytheon, the defense contractor and missile manufacturer that's long-time pals with the Pentagon, seems to think it can answer with one new piece of protester-proof riot gear. They are calling it a man-portable non-lethal pressure shield, and its effects could have you contesting to catch your breath.Move over, LRAD, the new pressure shield in the works from the DoD allies that brought you such classics as the BGM-109 Tomahawk subsonic cruiser and the Phalanx CIWS anti-ship missile defense system stands to be the next step in crowd control and could give your local policeman a whole new way to deal with those pesky Occupy hippies and their silly pleas of ending corrupt Wall Street corporate personhood. This upcoming addition to the arsenal brings with it a whole new way of beating down protesters. The shield, by sending out a series of pulsed pressure beams, resonates the upper respiratory tract of the victim and, depending on which setting is chosen by the officer, can render them warned, stunned or incapacitated.By blasting waves of mixed force and threshold, the users of the shield can tip-toe the line that borders on discomfort for the victim but also teeters dangerously close to eardrum rupture and lung damage. Even the weakest blast of less than 10 g at a close enough distance will be able penetrate the pain threshold with barely 140 db of sound. Don't worry, though. With "non-lethal" in the name of the device, surely it won't do all that much damage. Granted, the non-lethal projectiles fired at protesters in Oakland, California during an Occupy march earlier this year left an American military veteran with a fractured skull in critical condition, but there's always an exception, right?On their website, Raytheon says that their technologies and concept provide twenty-first century solutions. With nine decades left until it wraps up, this era is looking to be a fun one. See you at the protest — just don't forget your inhaler and health insurance card!
You can share this story on social media: