Hoax? Boston police evacuate marathon finish line, detonate suspicious device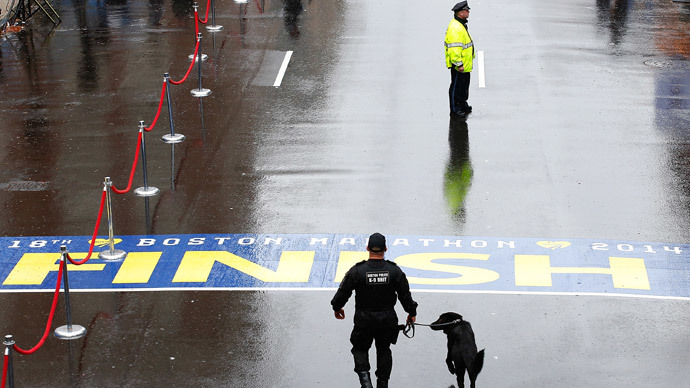 The Boston Police Department investigated two unattended backpacks near the finish line area of the city's marathon. A man thought to have left one of the bags was taken into custody, though it appears to have been a hoax.
The Boston Police Department's bomb squad was sent to check the bags, and officers cleared the area around the marathon's finish line - at Boylston and Dartmouth Streets - at around 7 p.m. local time on Tuesday, according to local news outlets.
Police "disrupted" two of the bags for "precautionary reasons." At around 9 p.m., a bomb squad using a robot inspected and conducted a controlled detonation of a bag, a routine measure, according to reports. An additional detonation reportedly occurred at around 9:35 p.m.
— WCVB-TV Boston (@WCVB) April 15, 2014
#BPDPublicSafetyAlert: #BPD Bomb Squad still on scene in the area of Marathon Finish Line investigating call for 2 unattended backpacks.

— Boston Police Dept. (@bostonpolice) April 15, 2014
A barefoot man wearing a black veil over his head yelling "Boston Strong" was wearing a large backpack at the scene before the area was cleared, according to reports. The man has been identified as Kayvon Edson, Boston's CBS affiliate WBZ-TV reported.
Witnesses say Edson left a bag at the finish line before running off. He was later taken into police custody.
WBZ-TV reported that Edson told police he was carrying a rice cooker in his backpack, prompting the bomb squad. Another source told WBZ-TV that the rice cooker in the bag was full of confetti.
Edson has been charged with disorderly conduct, disturbing the peace, and possession of a hoax device, according to WBZ's Steven Bognar.
The second suspicious bag near the finish line belonged to a media outlet, according to CNN. Both bags were cleared by police.
— Ryan Catalani (@magicofpi) April 16, 2014
EXCLUSIVE PHOTO: Male suspect in @bostonpolice custody in unattended bags investigation at finish line pic.twitter.com/W4ENWLJybG

— NECN (@NECN) April 16, 2014
Tuesday was the one-year anniversary of the bombings at the 2013 marathon which killed three people and injured around 264 others. The 2014 Boston Marathon will take place on Monday, April 21.