Manning: I didn't aid enemy; cables show need for diplomatic transparency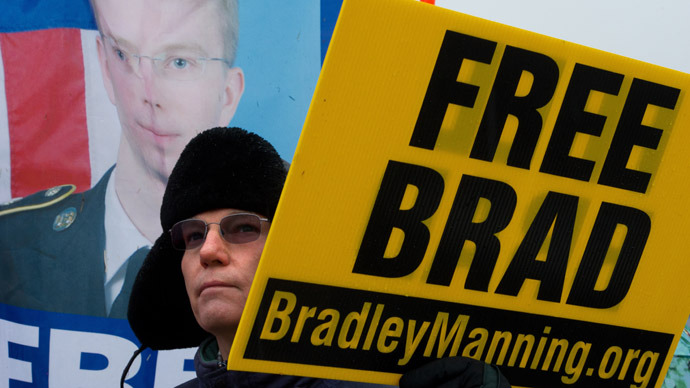 For the first time ever on Thursday, Army Private first class Bradley Manning explained his reasoning for leaking hundreds of thousands of sensitive US government documents.
The explanation and confession for releasing what the soldier called some of"the most significant documents of our time" were delivered in a military courthouse in Ft. Meade, Maryland outside of Baltimore. It marked only the second time Pfc. Manning spoke to the court in length.
The United States government could — but won't — seek capital punishment against the 25-year-old soldier if they convict him of aiding the enemy, a charge they say he is culpable of because he has long been accused of giving a trove of documents to the anti-secrecy website WikiLeaks that in turn posed a risk to the national defense of the United States. During Thursday's hearing, Pfc. Manning pleaded not guilty to the most serious charges and instead took the blame for 10 lesser offenses. The soldier stood by his decision to leak files roughly three years earlier and said he believed then and now that they paint an important picture rarely seen of how America conduct's its international operations.
The government is not mandated to accept his plea, but Pfc. Manning could be sentenced to a maximum of 20 years in prison if he is convicted on only the 10 counts he admitted to. Should the government continue to pursue him for aiding the enemy, however, he faces a life behind bars.
Delivering his plea, Pfc. Manning took responsibility for his actions and told the court what motivated him to release the files and what he hoped to achieve.
Among the material Manning is charged with giving WikiLeaks is a trove of US State Department diplomatic cables that document the United States' questionable handling of international relations. As an Army intelligence analyst, Pfc. Manning had access to the cables and said that he became "fascinated" by them the more he read them.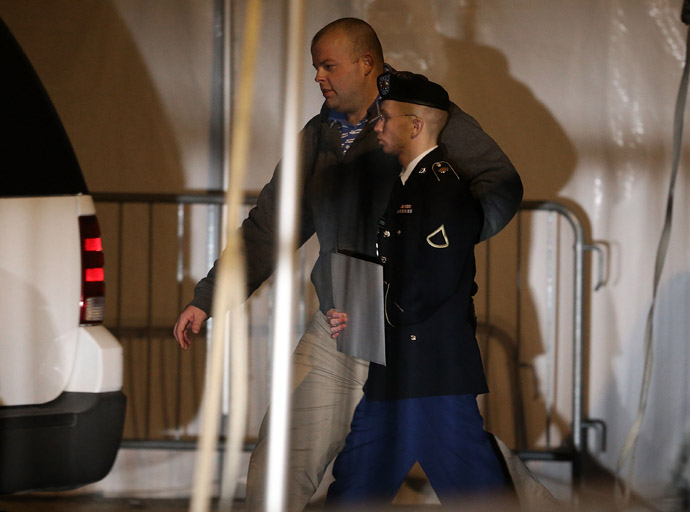 "I thought these cables were the perfect example of a need for more open state diplomacy," he said. The material, said Manning,"documented backdoor deals and seemingly criminal activity" that he thought others wouldn't expect of America. Instead of diplomatic actions that would be considered heroic, Pfc. Manning said the cables contained "a catalog of cliques and gossip."
"I believed the public release of these cables would not damage the United States,"said the soldier."However, I did agree that the cables might be embarrassing"
Manning added that it was simply in his nature to uncover more about America's behavior. He said he figured he'd be an "excellent" intelligence analyst based off his interests in geo-politics and computers. He preferred the mental challenges of reviewing large amounts of information and his commanding officers during training encouraged his ability.

Manning also told the court that he took a July 2007 video recorded onboard a US Apache helicopter and uploaded it to WikiLeaks. The video, which was eventually published under the name Collateral Murder, showed US soldiers opening fire on Iraqi civilians and two Reuters journalists. Through his own research, he learned that Reuters filed a Freedom of Information Act request to obtain the footage, although that plea was continuously refused.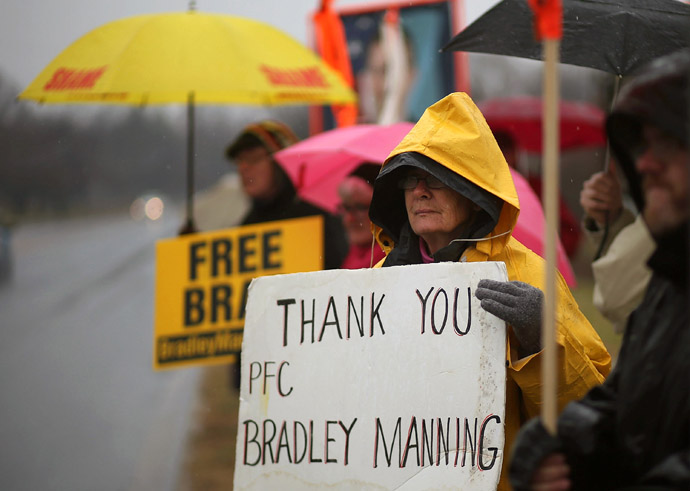 "I wanted to learn what happened,"he said. When he eventually discovered that the journalists were killed by US soldiers, he said he wanted to provide it to the news agency so they could learn the truth.The footage itself upset him, Manning said, and the fact that the US government would not provide it troubled him further.
"For me, this seemed similar to a child torturing ants with a magnifying glass,"he said.
The video, confessed Manning, documented one of many incidents he became all too familiar with while deployed overseas. The soldier said he joined the Army with the"hope of obtaining both real world experiences" and assistance eventual college classes. Soon, however, he found himself disillusioned by the realities of war that could be experienced only once fully emerged within the US armed forces.
"I began to become depressed with the situation we became increasingly mired in," he said of his experience in protecting the US. "We became obsessed with capturing and killing human targets," Manning testified.
"We were risking so much for people that seemed unwilling to cooperate with us, leading to hatred and frustration on both sides,"he said.
You can share this story on social media: