Manning: 'I don't consider myself a pacifist'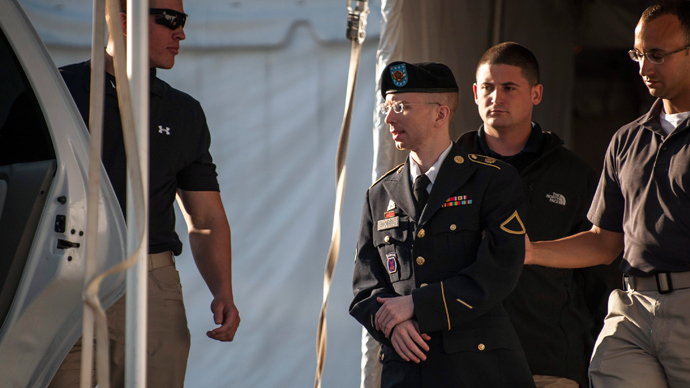 WikiLeaks source Chelsea Manning says she doesn't consider herself a pacifist, anti-war or a conscientious objector, instead preferring the label "transparency advocate" over others, according to a letter from prison published Wednesday.
In a letter to the Guardian newspaper, the 25-year-old former Army private writes that it isn't terribly clear to herself that her actions — supplying a treasure trove of classified documents to the anti-secrecy website WikiLeaks, specifically — were explicitly done for "peace."
Instead, Manning insists "I'm a 'transparency advocate,'" adding in her letter, "I feel that the public cannot decide what actions and policies are or are not justified if they don't even know the most rudimentary details about them and their effects."
Manning's letter, courtesy of the Guardian

Manning is currently serving a 35-year jail sentence after being convicted earlier this year of espionage and other charges stemming from her admitted role in handing over to WikiLeaks hundreds of thousands of sensitive materials, including logs from the Afghan and Iraq wars, Guantanamo Bay detainee assessment briefs and a cache of diplomatic State Department cables.
"I want people to see the truth…regardless of who they are…because without information, you cannot make informed decisions as a public," Manning wrote before her 2010 arrest while enlisted as a private in the US Army. After being sentenced in August, Manning announced a day later in a letter she wished to no longer be known by her birthname, Bradley Manning, and would be pursuing hormone replacement therapy while incarcerated in Ft. Leavenworth, Kansas.
But as Manning begins what she previously called a "transition into this next phase of my life," she attempts to explain in the letter published this week that her involvement with WikiLeaks did not transcend too far beyond simply ensuring that significant information would be shared with the world.
The letter, Manning writes, stems from recent news that she had been awarded the 2013 Sean McBride Peace Award, which was accepted in her honor by longtime supporter and retired Army colonel Ann Wright.
"Now, please don't get me wrong—I'm absolutely flattered and honored to receive this award," Manning writes. Later in her letter, though, she says she became "shocked and frustrated" because "there might be more false impressions out there" regarding her reasoning for going to the media in 2010.
"From my perspective at least, it's not terribly clear to me that my actions were explicitly done for 'peace.' I don't consider myself a 'pacifist,' 'anti-war' or (especially) a 'conscientious objector,'" she writes.
"Now — I accept that there may be 'peaceful' or 'anti-war' implications to my actions—but this is purely based on your subjective interpretation of the primary source documents released in 2010-2011. I believe that it is also perfectly reasonable to subjectively interpret these documents and come to the opposite opinion and say, 'Hey, look at these documents, they clearly justify this war' (or diplomatic discussion, or detention of an individual). This is precisely the reason why I avoided overbroad and unnecessary redactions on my end while providing (and attempting to provide) these documents to media organizations in early 2010."
Coombs, Manning's attorney, writes in a blog post published on his website on Wednesday that he has since spoken to his client about the Guardian letter and that "she is sorry if her letter caused any offense to the International Peace Bureau, Col. Wright or her supporters."
"My intention was to reflect in an appropriate way Chelsea's views drawn from her statement to court and her previous comments. I deeply apologize to her," Wright responded to the Guardian.
Manning, Coombs adds, never claimed to be anti-war, and writes that while his client joined the US Army to defend her country, "she is a humanist and was motivated in her actions not only by her transparency beliefs, but also by deep concern for the value of human life." 
You can share this story on social media: