Manning's anger, emotional issues made him unfit for intel work – defense attorneys
Published time: 13 Aug, 2013 01:40
Edited time: 13 Aug, 2013 09:49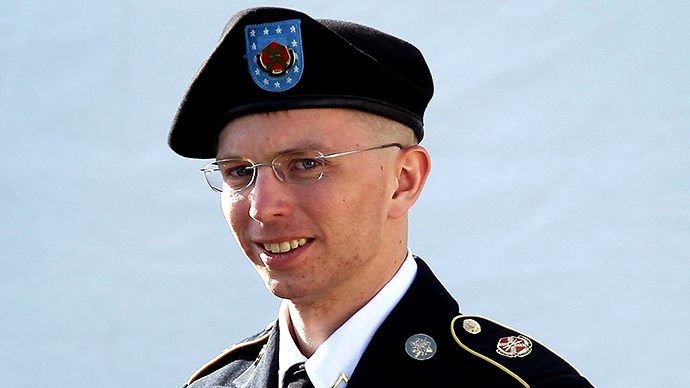 Bradley Manning angrily flipped over a table and reached for a superior officer's weapon during his time in Iraq, when the US Army private's emotional state was so fragile that he should have been removed from combat, his defense lawyers said Monday.
Manning, 25, was convicted last month of espionage and mishandling classified data for disclosing 700,000 US diplomatic cables and battlefield reports to anti-secrecy website WikiLeaks. His lawyers began their defense in the sentencing phase of the trial and hope to convince Army Colonel Denise Lind, the military judge, to reduce Manning's sentence from a possible 90 years. 
While stationed in Iraq, the lawyers asserted, Manning would frequently break down in tears and exhibited a mental condition that should have never warranted a security clearance. Colonel David Miller, a commanding officer who oversaw 4,000 troops in Manning's brigade, admitted in court that the unit was up against a shortage of intelligence analysts. 
"We understood some of the ramifications of not having the ideal team in there," Lieutenant Colonel Brian Kerns, executive officer of Manning's brigade, said in court. 
Manning's defense attorney questioned Colonel Miller as to whether he had been alerted in December 2009 that Manning "flipped a table during a counseling session," something the commander denied. 
"Table-flipping by itself could just be an emotional outburst. There are all sorts of things that could be behind it," he said. 
Elizabeth Fields, a first lieutenant who was nearby when Manning flipped the table, said she remembered hearing "a lot of thump" and previously testified that she told commanding officers that supervisory leadership in the unit she shared with Manning was "terrible."
While Fields said she no longer feels that way, she did testify that she approached her fellow officers and asked, "Hey, what are we doing about this soldier?" 
Manning is expected to speak in court, either on the witness stand or by reading a non-admissible statement, by the end of this week. Whatever sentence Lind hands down next week will be reduced by three years because of the time that Manning has spent in custody. He will receive another 112 days as compensation for the harsh treatment he was put through in detention at Quantico Marine Base in Virginia.