Manhattan to be blanketed with pesticides to combat West Nile virus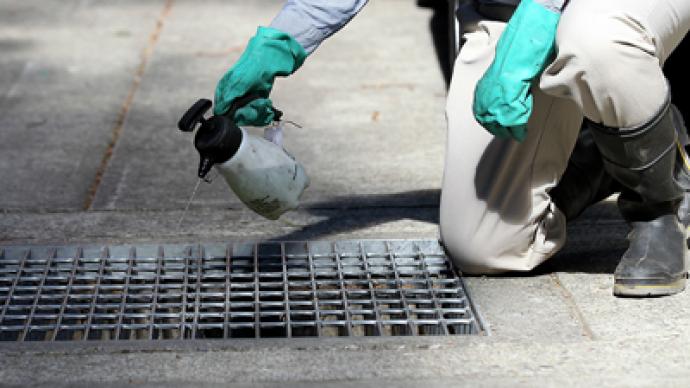 Manhattan, New York City's most densely populated borough, will be sprayed with pesticides in an attempt to prevent the spread of West Nile virus. Cases of the disease across the country have jumped 40 percent in a single week.
The spraying aims to kill mosquitoes and prevent the spread of West Nile virus, as well as the rarer and deadlier Eastern Equine Encephalitis."These neighborhoods are being treated due to rising West Nile virus activity with high and / or increasing mosquito populations," the Department of Health said in a statement.The pesticide deployment is scheduled for Friday, August 31, between 1:00am and 6:00am EST, weather permitting. In the case of inclement weather, the action will be delayed until Wednesday, September 5.A low concentration of the synthetic pesticide Anvil will be sprayed over parts of Central Park, Clinton, Lincoln Square, the Upper West Side, and Manhattan Valley, the Department of Health said, adding that the substance poses"no significant risks to human health, but some individuals may experience health effects."
The statement urges New Yorkers to stay indoors during the spraying, and for at least 30 minutes afterwards. They are also advised to close all doors and windows, turn off air conditioning units, and remove clothes and children's toys from outside.To minimize exposure the virus, people are recommended to take precautionary measures such as wearing shoes, socks, long pants and a long-sleeved shirt when outdoors for a long period of time. And are also advised to apply appropriate mosquito repellent and to remove all standing water from property.It only is the third time in a decade Manhattan will spray against a virus, while such actions are more common in the other four boroughs. West Nile virus cases are on pace to rival the record years of 2002 and 2003, US health officials reported.The Centers for Disease Control and Prevention confirmed 1,118 cases of the mosquito-borne disease, which resulted in 67 deaths so far this year, including 42 this summer. Health officials believe the unusually hot and dry summer weather may have contributed to the boom in West Nile infections.