Mandatory evacuation ordered in Los Angeles suburbs ahead of storm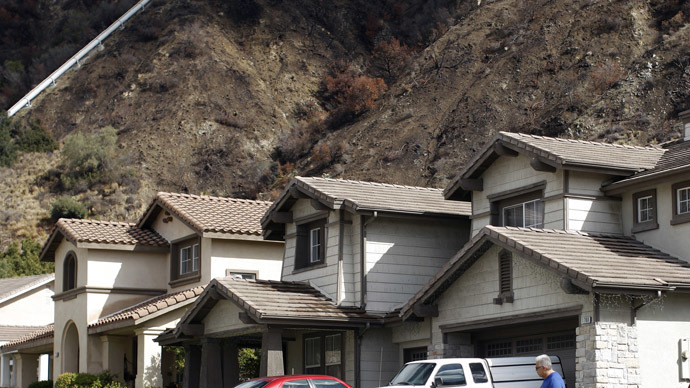 Police in two California cities have ordered mandatory evacuations for 1,000 homes due to the threat of mudslides, as a powerful rainstorm prepares to drench the drought-stricken state.
Homeowners in Azusa and Glendora, California – about 25 miles northeast of Los Angeles – were made aware of the orders on Thursday, after one rainstorm had already passed over the cities. No significant damage was done, but with 2,000 acres of mountain slopes near the suburbs denuded by a January wildfire, officials fear a stronger storm could trigger a series of devastating mudslides.
"You've got a recently burned hillside here with limited vegetation and a very steep slope. It's a recipe for what the experts say is potential for a great deal of damage," Sgt. John Madaloni said to local news outlet KCAL 9.
Prior to the first storm, local communities began preparing for possible damage by lining the streets with wooden barriers and sandbags, hoping to keep any traveling debris on the roads and away from homes. With the National Weather Service warning of a storm powerful enough to drop 1 to 2 inches of rain an hour into Saturday, however, allowing everyone to stay in their homes posed too great a risk for city officials.
"Glendora was a citrus community at 20,000 people, with orchards up there," City Manager Chris Jeffers said to the Associated Press, compared to the area's current population of 50,000. "Now it's all homes and so we have a lot more homes in harm's way, which means more people in harm's way."
Already, the rain that passed through San Francisco earlier this week caused more than 100 flights to be cancelled, so it's possible Friday's storm will cause similar headaches for airline travelers.
In addition to significant rainfall, forecasters stated there's also a chance that small tornadoes could develop in Santa Barbara and Ventura counties.
"We're going get more rain in the next 48 hours than we've seen in the past two years," NASA climatologist Bill Patzert told CBS News, before adding that the state's drought will still be far from over regardless. "This storm is what I call a down payment on drought relief but there is no quick fix for a drought that is this deep and this long," he said.
As noted by the AP, California's Department of Water Resources has found the state has only seen 24 percent of the average water content it typically receives. At this rate, it would take multiple big storms like this to bring that number up. As RT noted previously, nearly 15 percent of California – including much of its water-starved farmland – is in an extreme state of drought.
Since July 2013, Los Angeles has only received 1.2 inches of rainfall, a tiny number compared to the average of nearly 10.5 inches. San Francisco's 5.85 inches, meanwhile, fall far short of the typical 17 inches or so the city usually receives.
Lack of water in Azusa won't be a problem until Saturday, at least, where homeowner Ed Heinlein told CBS Los Angeles that despite his newly built retaining wall,"This is going to look like Niagara Falls after the next two inches of rain."
You can share this story on social media: