Handcuffed Arkansas man shot to death in the back of police car
Published time: 3 Aug, 2012 16:08
Edited time: 3 Aug, 2012 21:02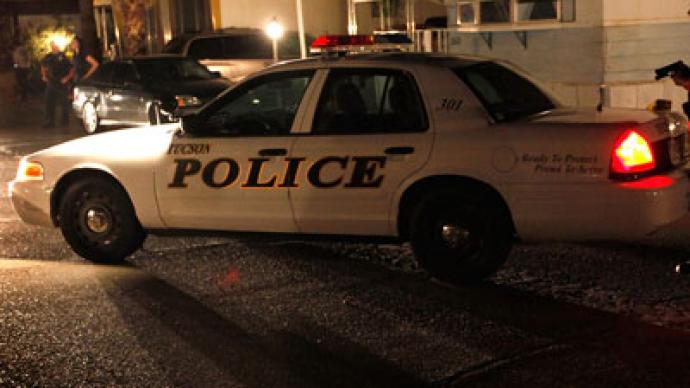 A 21-year old man was fatally shot in the head while handcuffed in the back of a police car in Arkansas. The police claim it was a suicide but victim's family has a hard time believing it.
Chavis Carter was arrested by two officers for carrying marijuana, after being detained at a traffic stop last Saturday. The officers say they searched him twice before placing him in the back of a police car wearing "double locked" handcuffs.
Carter allegedly called his girlfriend while at the traffic stop, telling her he'd call later from jail.
But shortly thereafter, the young man was found slumped over in the back of the police car with a fatal gunshot wound to the head. The officers claim they were nowhere near the car when the gun was fired.
Police at the scene maintain that Carter had concealed a gun and shot himself. But Carter's mother believes police killed her son and are now trying to cover it up. She says her son suffered a wound to his right temple, but he was left-handed. The fact that her son was wearing double locked handcuffs makes a suicide even more unbelievable, she said.
Police Chief Michale Yates said that the death is "definitely bizarre and defies logic at first glance."
Yates told HLN TV that there is no indication of any projectiles coming from outside the vehicle, which suggests that whatever happened to Chavis happened from inside the car.
Several "Justice for Chavis Carter" Facebook pages have been set up. Many of the Facebook page commenters call for justice in what they consider a brutal murder by police officers.
"Such a tragedy," Shawn Lewis wrote on one of the pages, which has more than 1,300 "likes" "But not the first time a young man of color has been killed in cold blood by the police force with no provocation. What can we do to stop the war on our children?"
Amid a whirlwind of conflicting ideas about how the young man was shot in the head while handcuffed, the FBI has begun an investigation into the case.
"You can ask any officer anything you want, but it doesn't mean they are going to tell you anything," Charles Coleman, a member of the Jonesboro City Council, told the Huffington Post. "Until there's an investigation, you're like any other person hearing pieces of the news. I'd rather have it documented in black and white."
So far, anger has been brewing in those familiar with the case. Sherman Pye, who runs a bail office in Jonesboro, said people are heated about the lack of transparency about what happened.
"Everybody is just on pins and needles waiting to see the outcome," Pye said. "We just want to make sure he's dealt a fair deal. We're not here to convict anyone, we just want clarification."