Los Angeles struggles to win war on garbage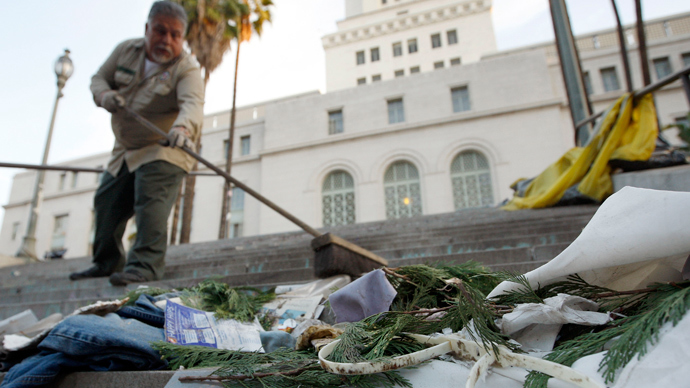 In order to prevent some neighborhoods from being overrun with trash, the city of Los Angeles is waging a $1 million war on garbage.
Over the last few weeks, the city has placed its focus on a few of the trash-heavy neighborhoods in its first district, such as Lincoln Heights, Mount Washington, Westlake, and Pico-Union.
The latter two, in particular, are generating much of the sanitation department's attention due to their infamous inability to remain clean. Piles of couches, mattresses, and other bulky items can reach 10 feet high, blocking sidewalks as well as alleys.
"It's like weeds," Jose Garcia, superintendent with the Bureau of Sanitation, told the Los Angeles Times. "You clear up one alley one day, and the next week — sometimes the next day — it's back to how it was."
So far, sanitation workers have removed more than 250 tons from the targeted areas. Instead of the typical once-a-week schedule, garbage collectors are servicing the area five days a week, and the city has placed solar-powered trash compactors near the most littered area: MacArthur Park. Councilman Gil Cedillo is also considering establishing a service that would help residents remove bulky items instead of simply leaving them on the curbs.
"We're going to have a full-on assault on trash and litter," Cedillo said. "I don't believe and accept that people think this is OK. If everybody plays their modest role, I know we can keep things clean."
Removing physical pieces of refuse can only go so far, however. In addition to cleaning up the streets, Cedillo is launching a public education campaign that will focus on making residents more conscious of waste disposal efforts. Neighborhood meetings will encourage people to keep the streets clean, and schools will hold similar events for children.
"What we're trying to do is change the culture of the place," Cedillo said. "To keep people from setting their sofas and mattresses on sidewalks, to stop them from tossing their hot dog and burrito wrappers on the floor."
Some longtime residents told the Times that while they will participate in the clean-up efforts, they've seen similar efforts only moderately succeed in the past, in part due to the high rate at which people in the area move.
"The biggest challenge for any council member," Wooldridge said, "is to educate people to keep it nice," said Bertha Wooldridge, a community leader and business owner. She noted that in 30 years, four different council members only to see the same problem come back.
"You work hard to teach a bunch of people. You get momentum. And then they move away, and you have to start all over again."