Blogger arrested for criticizing government sues Connecticut officials for improper detention
Published time: 4 Dec, 2012 18:29
Edited time: 4 Dec, 2012 22:29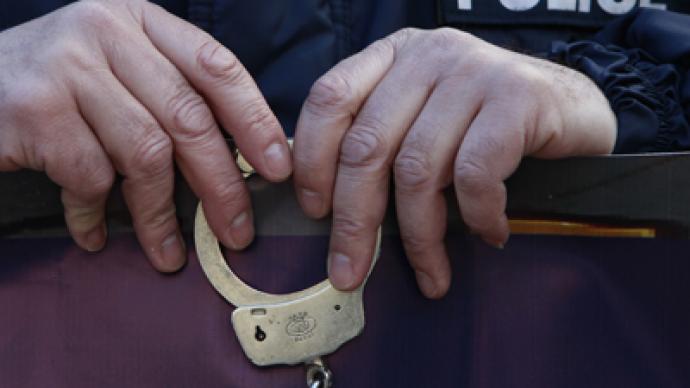 A right-wing blogger is hoping to win $50 million from Connecticut through a lawsuit he filed this week that alleges he was falsely arrested, wrongfully imprisoned and maliciously prosecuted by the state.
Harold "Hal" Turner was arrested in 2009 after a blog post published on his personal website named specific state officials from Connecticut whom he warned would be targeted by his online audience for supporting a state bill that would have given lay people of Roman Catholic churches more control over parish funds. The Associated Press reports that Turner considered the legislation an attempt to destroy the separation of church of state, and the writer urged his audience to voice their concerns on his website by any means necessary.
"These beastly government officials should be made an example of as a warning to others in government: Obey the Constitution or die," he wrote. "If any state attorney, police department or court thinks they're going to get uppity with us about this; I suspect we have enough bullets to put them down, too."
In the same post, Turner teased that he would post the home addresses of judiciary committee members involved in the church vote. The controversial commentator was arrested after he posted the threat and charged with exhorting his readers to injure state officials.
"I interpreted this as people were going to be coming to my house in 24 hours with bullets and guns," Thomas K. Jones of the office of state ethics testified on the stand.
On his part, Turner said, "The state is prosecuting me simply for uttering words and there's a problem with that, because in the United State of America people are supposed to be free to express their opinions." He called it an assault on his First Amendment rights and two years after the fact was acquitted. Now with the incident all but behind him, the commentator says he intends to take the state to court.
In the latest suit filed by Turner, he says Assistant Connecticut State Attorney Dennis O'Connor "willfully, maliciously, unlawfully and without probable cause" filed false charges against him. He's hoping to win $15 million over O'Connor alleged wrongdoings and another $17 million to compensate for the five days of jail time he was subjected to. In all, Turner is demanding roughly $50 million from the state.
"It will be a tough road," Turner tells the Jersey Journal. "It hinges on whether or not they had probable cause to charge me. I think I present a good case that they didn't."
When Turner was acquitted in 2011, he was at the time serving a nearly three-year-long prison sentence for an unrelated matter involved threatening judges in the state of Illinois. Before that, though, he was no stranger to controversy. In 2006 he became an early target of the Anonymous hacktivism group, who waged an assault on his website after he made a series of racist comments on his radio show. Anonymous members eventually hacked his email, revealing secret correspondence confirming that Turner had actually been a paid informant of the FBI, compensated to coax information from fellow right-wingers.