White nationalists to start lobbying Congress
Published time: 18 Jun, 2012 20:54
Edited time: 19 Jun, 2012 00:54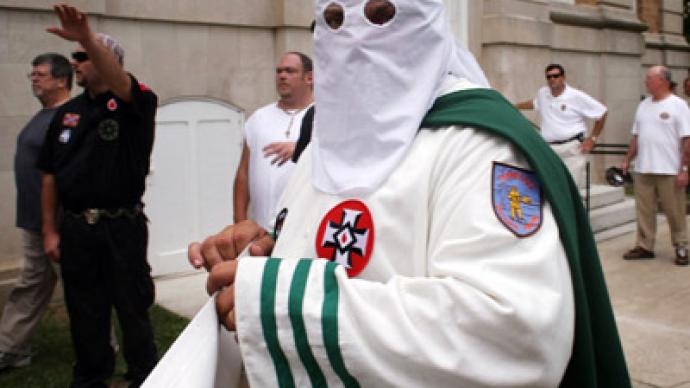 And I bet you thought lobbyists in Washington couldn't get any lower: a White Nationalism group hell-bent on protecting the White Race has registered to lobby lawmakers in the nation's capital.
According to disclosure records made available to Washington, D.C.'s The Hill, Crusaders For Yahweh-Aryan Nations LLC has officially filed the necessary paperwork to be considered one of the newest names on K Street. Just make sure you're not black (or Hispanic, Jewish, or …well, this could go on for a while) if you're looking to meet the neighbors, fellow lobbyists!
Paul Mullet, a senior pastor with the church, tells The Hill that his group's foray into Washington politics is still fresh, but he hopes that by securing proper lobbying status white nationalism will finally be represented fully in the United States.
"Because we need to have Christianity brought back to American society," Mullet tells the paper. "For one, the white race is being targeted as a hate group. Everywhere we turn, we are being depicted as a bunch of inbreds. … It is time we take a stand."
Along with a certification of ordination hosted on the official website for Crusaders For Yahweh, one letter officiating Muller as a pastor of the church says that it is his message "to carry forward the true message to our white kindred." The Southern Poverty Law Center, however, isn't so generous with their words in describing Pastor Muller, whom they label as "a neo-Nazi and Christian Identity adherent with a long history of theft."
But, hey. Washington isn't exactly full of winner, now is it?
To The Hill, Mullet says he is more than willing to meet with lawmakers or members of Congress who are interested in hearing from a group that otherwise isn't all that represented in Washington.
"If somebody wants to talk to someone who is pro-white, they are labeled a racist. That's not true," Mullet says. "I will meet with these people."