Feminists angry at Obama's rumored pick of Larry Summers to lead the FED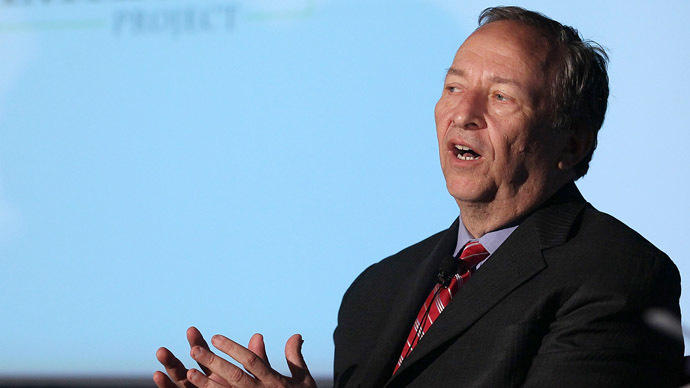 Reports have surfaced that former White House Economic Adviser Larry Summers might be the next chairman of the Federal Reserve, but presumed controversies about the alleged frontrunner have sparked some opposition to the choice.
 "People dismissed Summers' chances a month or two ago, but he's increasingly viewed as the leading candidate today – and opinions on this, for reasons I don't fully understand… have really hardened in the last 72 hours," reports the Washington Post's Ezra Klein.
People who have been briefed on the Obama administration's preference told the Huffington Post that the president is indeed leaning towards Summers, who currently serves as director of the National Economic Council.
But critics have lashed out against the choice, slamming Summers for his economic record and his purported inability to work with women. Some liberal critics have expressed their preference for Federal Vice Chair Janet Yellen, who is currently considered the other frontrunner for the job.
"We are concerned by rumors that Larry Summers, a man known for his offensive and callous opinions on women, is currently being considered to lead the Federal Reserve," Shaunna Thomas, co-founder of the feminist group UltraViolet, told the Huffington Post. "Women will not soon forget if President Obama picks Mr. Summers for such an important post, a man who believes women are somehow inherently less capable than men. It is time to shatter the glass ceiling at the Fed and appoint a women to a post that impacts so many women, and Janet Yellen would be a much celebrated pick."
In 2005, Summers came under fire for a comment he made at a keynote speech at a conference on diversity. He was serving as president of Harvard University at the time, and hypothesized that the shortage of women in certain disciplines, such as science, could be explained by innate differences in mathematical ability. He said that there was "different availability of aptitude at the high end" – a comment that infuriated women's' rights groups.
"There is relatively clear evidence that whatever the difference in means—which can be debated—there is a difference in the standard deviation and variability of a male and female population," Summers said. Media commentators interpreted Summers' statement as anti-women, and claim he suggested that women are worse at science than men.
"For him to say that 'aptitude' is the second most important reason that women don't get to the top when he leads an institution that is 50 percent women students – that's profoundly disturbing to me," MIT biologist Nancy Hopkins told The Harvard Crimson. "He shouldn't admit women to Harvard if he's going to announce when they come that, hey, we don't feel that you can make it to the top."
Some commentators suggested that Summers' comment was misinterpreted and taken out of context, but feminist groups such as UltraViolet are not quick to forget the controversy.
Critics of Summers have also expressed their concern with his economic record. During the Clinton Administration, he served in the US Department of Treasury under his long-time political mentor Robert Rubin, and later succeeded him. Rubin helped deregulate Wall Street and has long favored the bond-holding community. He has criticized Federal Chairman Ben Bernanke's efforts to stimulate the economy, and Summers' critics are worried that he will be influenced by his former mentor.
"Larry Summers for Fed Chair? Disconcerting," Sen. Jeff Merkley (D-Ore.) said in a tweet on Tuesday.  
William Greider, a columnist at The Nation, echoed some of the concerns regarding the potential nomination of Summers.
"Barack Obama, I am told, is on the brink of making a terrible mistake by appointing Lawrence Summers," he wrote. "Summers is a toxic retread from the old boys' network and a nettlesome egotist who offended just about everyone during his previous tours in government … [and] a central player in the grave governing errors that led to the financial collapse and a ruined economy."
You can share this story on social media: