Market Buzz: Taking breath ahead of US Fed June minutes
Published time: 9 Jul, 2013 06:04
Edited time: 9 Jul, 2013 06:08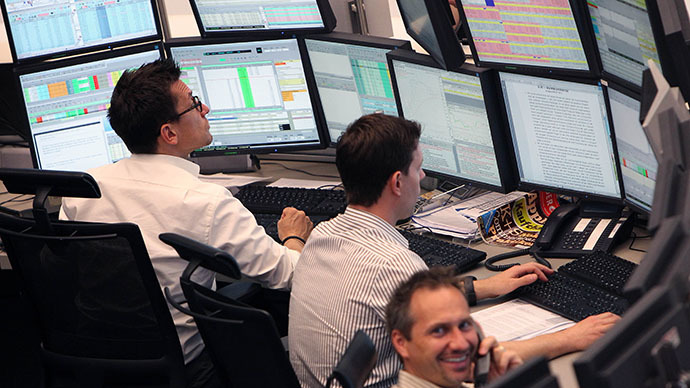 Expectations of new signs of a recovery in the US keep on driving the floors. On Tuesday investors are expected to sit and wait ahead of a Wednesday note from the US Fed on its further game plan.
"Tuesday on European floors holds out to be pretty quiet," according to Andrey Shenk, analyst at Investcafe. Among important statistics to be released are May figures for industrial production, where the market expects to see a 0.2 percent growth compared to a 0.1 percent a month earlier, Shenk added.
"Trade volumes are unlikely to be high today, as in the wake of the seasonal lull investors may refrain from purchases pending tomorrow's publication of June minutes by the Fed," Shenk added.
On Monday, Russian equities, the cheapest among 21 emerging markets tracked by Bloomberg, advanced after Citigroup raised the nation's stocks to overweight, citing low valuations. The RTS added 0.69 percent to 1, 277.29, with the MICEX going up 0.46 percent to 1, 348.88.
"Russia sits as our preferred CEEMEA market for the second half of 2013 due to valuation reasons," Citi strategist Richard Schellbach said in the note. "We note that investor skepticism towards the market is high, and underperformance relative to emerging markets has continued throughout the first half of 2013," he added.
Russian coal producer Raspadskaya climbed 4.9 percent after resuming work at its flagship mine after a two-month halt.
Oil prices – one of the key drivers for Russian market – eased on the news of the returns of a Libyan oilfield and an Iraqi pipeline after unrest in Egypt. Libya's major Sharara oilfield will resume operations after an agreement was reached with the armed group that shut it down last month, as Reuters refers to a senior Libyan oil source.
Brent crude, the European benchmark, fell 29 cents to settle at $107.43 a barrel, after hitting $108.04, the highest since April 4. US light crude was down 8 cents at $103.14, after earlier touching a new 14-month high of $104.12.
Internationally, the biggest market driver has been the June 19 announcement by Chairman Ben Bernanke of a possible timeframe for the Fed to begin paring its $85 billion in monthly asset purchases, which is set to start as soon as later this year. Expectations that the Fed will reduce its bond-buying is sending the dollar higher, with the greenback having touched its three–year high on Monday, but easing back quite shortly afterwards.
"Our conviction is strong that the dollar will embark on a structural ascent, against a broad range of currencies," Stephen Jen, a managing partner at London-based hedge fund SLJ Macro Partners, told Reuters.
The dollar's recovery will push Russia's inflation higher, supporting resource-linked stocks over equities dependent on domestic consumption, said Citi analysts.
On Wall Street, the Dow Jones industrial average was up 88.85 points on Monday, or 0.59 percent, at 15,224.69. The S&P 500 Index was up 8.57 points, or 0.53 percent, at 1,640.46. The NASDAQ was up 5.45 points, or 0.16 percent, at 3,484.83.
As investors seeking news about further action by the US monetary authorities, focus is now shifting to Wednesday's release of the minutes from the Fed's June policy meeting.
European markets closed sharply higher on Monday with shares in Germany leading the region. The DAX was up 2.08 percent while France's CAC 40 added 1.86 percent and London's FTSE 100 increased 1.17 percent.
Asian markets are broadly higher on Tuesday with shares in Japan leading the region. The Nikkei 225 is up 2.41 percent, while Hong Kong's Hang Seng adds 0.63 percent and China's Shanghai Composite rises 0.40 percent.