Market Buzz: Oil advances on Egypt unrest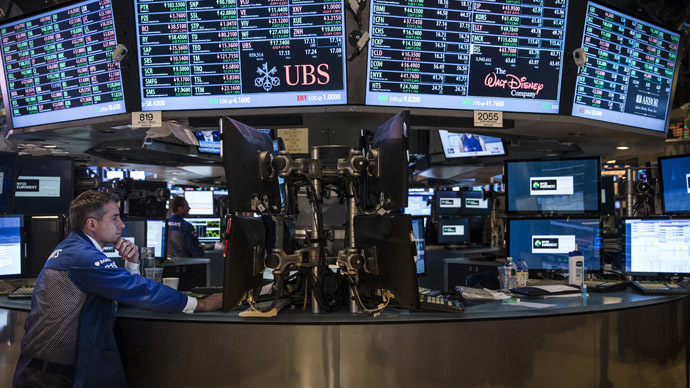 Russian stock floors look to rebound on Wednesday from the ruble's 0.3 percent depreciation against the dollar, and anticipate further advances on crude, as political unrest in Egypt drove light crude near $102 on Wednesday.
WTI hit a 14-month high of $102.16 per barrel. Crude may continue its upward trajectory and settle at $102 if political turmoil continues.

Brent crude is set to advance for a fourth day as analysts closely eye unrest in Egypt and potential supply disruption scenarios. Total US crude oil inventories stood at 383.8 million barrels as of last week, a slight decline in supply.

Natural gas prices inched higher Wednesday after data showed inventories increased less than expected.

The Micex recovered and closed up 0.22 percent at 1,336.23. The RTS index also made slight gains, up 0.66 percent closing at 1,272.69.

European indexes performed poorly, even though data showed a 1 percent boost in retail sales in May, which outperformed estimates of 0.2 percent.

London's FTSE 100 index of leading shares dipped 1.17 percent to 6,229.87, Germany's DAX index dropped 1.03 percent, and France's CAC is down 1.08 percent at 3,702.01

Trading floors in Europe will tune into European Central Bank President Mario Draghi, who is expected to address the crisis in Portugal and quantitative easing.

US markets are closed because of a banking holiday, but good advanced on good news from the Department of Labor Wednesday.

The number of individuals filing for jobless benefits fell by 5,000, seasonally adjusted, beating expectations of a 3,000 drop. The weekly data, compiled by the Department of Labor, is used as a benchmark to set layoff levels. Since March, the figure has fluctuated between 340,000 and 360,00.

Asian stocks are mixed as traders are cautious on Egypt unrest as well as the ECB meeting.

Markets in Asia are sluggish, as the Nikkei is down 0.12 percent, trading at 14,038.26.