Bob Woodward questions Washington Post colleagues' handling of Snowden affair
Published time: 22 Nov, 2013 17:13
Edited time: 23 Nov, 2013 03:38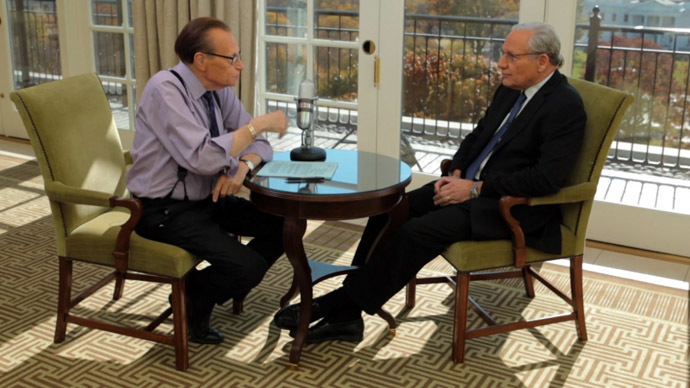 Four decades after his reporting on the Watergate scandal reshaped investigative journalism, Bob Woodward of the Washington Post told Larry King this week that he'd have handled Edward Snowden's NSA scoop differently than those who first covered it.
Speaking to King for an episode of Politicking that aired Thursday evening on RT, Woodward said he would have preferred it if the source responsible for what has become perhaps the biggest story since Watergate would have approached him for assistance first, a remark that was immediately taken by many as a jab at The Guardian journalists who first detailed Snowden's National Security Agency leaks and their colleagues at, among other outlets, his own Washington Post.
"I wish he'd come to me instead of others, particularly The Guardian, and I would have said to him 'let's not reveal who you are. Let's make you a protected source and give me time with this data and let's sort it out and present it in a coherent way,'" the 70-year-old Pulitzer Prize winner told King on the latest installment of his half-hour weekly news program.

"I think people are confused about whether it's illegal, whether it's bad, whether it's bad policy," Woodward added during the episode. "So, what he did, and it's pretty clear he's held some things back, and he has said he didn't want to do anything that he deemed harmful. Now, you know, clearly broke the law, like Daniel Ellsberg and the Pentagon papers broke the law. And we're going to see. I wouldn't…I certainly wouldn't call him a hero."
Both the Post's Barton Gellman and former Guardian writer Glenn Greenwald — two of the few journalists who have had access to the Snowden-supplied cache and have independently alerted the world to questionable operations conducted by the US intelligence agency revealed through the documents — were quick to respond to Woodward's comment.
"I can't explain why Bob would insult the source who brought us this extraordinary story or the exemplary work of his colleagues in pursuing it," Gellman wrote in an email sent to Huffington Post on Thursday.
"The 'others' he dismissed include [The Washington Post's] Greg Miller, Julie Tate, Carol Leonnig, Ellen Nakashima, Craig Whitlock, Craig Timberg, Steven Rich and Ashkan Soltani -- all of whom are building on the Snowden archive with me to land scoop after scoop," Gellman added. "I won't get into why Snowden came to me or didn't come to Bob. But the idea of keeping Snowden anonymous, or of waiting for one 'coherent' story, suggests that Bob does not understand my source or the world he lived in."
On Thursday afternoon, Greenwald's Twitter account linked to a blog post hosted on the website of political commentator Heather Parton, who administers the Hullabaloo blog under the pseudonym "Digby."
Bob Woodward laments: hmmm, why wouldn't a source like Snowden come to me? @Digby56 helps him understand http://t.co/cm0dYALFLh

— Glenn Greenwald (@ggreenwald) November 21, 2013
In the blog post, published a day earlier as news first circulated of Woodward's comments to King, Digby responded by citing previous reports that questioned the credibility of the long-time Post reporter with regards to sensitive information being leaked to the media. Digby quoted from a March 2013 Howard Kurtz essay published by CNN in which the host of the network's Reliable Sources program said Woodward admitted to being "part of the groupthink" that led to the build-up of the US invasion in Iraq.
"[Snowden] might have also been aware that while Woodward is perfectly willing to publish classified information, he limits it to a very special kind ---the kind the government wants you to see," wrote Digby, who then went on to quote Kurtz again wondering: "Did the Bush administration 'authorize' the leak of classified information to Bob Woodward? And did those leaks damage national security?"
Woodward, wrote the blogger, has "a reputation for protecting his sources --- but then his sources are all very high level government officials who are leaking to him to advance an agenda."
"It's unsurprising that someone in Snowden's position might not think Bob Woodward . . . would be the best person to approach," Digby added.
"Unlike Bob Woodward's DC sources, Edward Snowden didn't want to hide because he was and is proud of his choice," Greenwald opined from his Twitter account early Friday.
Unlike Bob Woodward's DC sources, Edward Snowden didn't want to hide because he was and is proud of his choice https://t.co/EIZiuMH3Sq

— Glenn Greenwald (@ggreenwald) November 22, 2013
Greenwald, 46, announced last month that he was leaving the Guardian after barely a year at the British paper to pursue a "once-in-a-career dream journalistic opportunity that no journalist could possibly decline" that has since been revealed to be a new media venture backed by eBay founder Pierre Omidyar. Greenwald's reporting on Snowden's NSA leaks, starting with a June 6 expose in the Guardian that was covered in the Post by colleague Laura Poitras, has been largely considered to be among the biggest journalism scoops of the decade. On his part, Woodward's reporting of the Watergate scandal in the early 1970s with colleague Carl Bernstein directly aided in the eventual resignation of former US President Richard Nixon.