Real unemployment data reveals dire labor participation rate
Published time: 10 Dec, 2012 17:03
Edited time: 10 Dec, 2012 21:03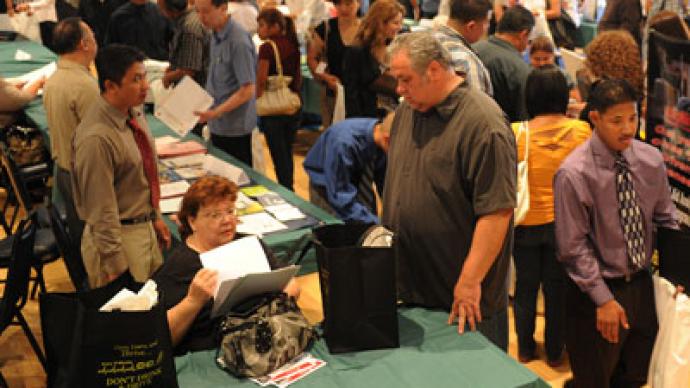 Friday's news of declining unemployment numbers was a victory only in writing: despite a drop in jobless claims, the labor force participation rate remains at its lowest in decades.
The percentage of working-age Americans who are either employed or actively in search of a job was reported as 63.6 percent for November 2012, two percentage points lower than the previous month and the worst the country has seen since 1978.
With the release of the monthly jobs numbers from the Labor Department on Friday, the White House has touted the latest figure — an unemployment rate of 7.7 down from October's 7.9 — as an indicator of their success in a promise to push that statistic down. In reality, though, fewer residents with an actual interest and ability to work are employed as ever before. The labor force participation rate has now been at or below 66.0 percent since the country entered a recession in late 2007.
While the White House is celebrating the lowest unemployment numbers in the history of the Obama administration, other statistics suggest the scope of the jobs market remains as grim as ever. Indeed, the number of Americans without jobs in the eyes of the Labor Department has shrunk two percentage points, but the proportion of Americans who are actively seeking employment as at its lowest in ages.
"According to the government, another 350,000 Americans left the labor force during November, and when you keep pretending that huge chunks of workers 'disappear' each month it is easy to get the 'unemployment rate' to go down," wrote economy blogger Michael Snyder, who acknowledges that the number of Americans "not in the labor force" has grown by almost 8.5 million since the Obama administration began.
"But the mainstream media is just eating up this 'good news.' They are very excited that the 'unemployment rate' has fallen from its peak of 10.0 percent in October 2009 to 7.7 percent now," says Snyder.
Among opponents of the president's politics behind jobs figures, the truth behind employment numbers is an example of how the current White House's policies have not done as promised.
"If the labor force participation rate were the same as when the president took office, the unemployment rate would be 10.7 percent," Senator John Barrasso (R-Wyoming) said Friday.
When labor statistics were released in November 2011 showing an alleged improvement in the dire jobs market, Steve Eggleston of Hot Air wrote last year that the drop in the civil labor force was "almost unprecedented" for that time of year.
"Since 1982, there have been only seven times the labor force has dropped between an October and a November, and only three times has the drop been even close to this steep," he wrote almost exactly a year ago. Just twelve months later, though, the labor force participation rate has dropped again, and by even a large proportion since last year.