Los Angeles County sheriff retiring after accusations of civil rights violations and corruption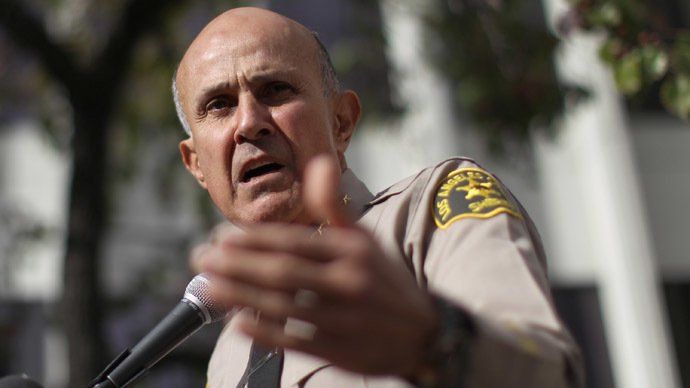 The embattled top cop of the Los Angeles County Sheriff's Department will call it quits later this month as allegations of corruption within his force continue to emerge.
Sheriff Lee Baca said on Tuesday that he will retire from law enforcement at the end of January following 48 years of service with the LA County Sheriff's Department.
"I'm not going to seek re-election for a fifth term as sheriff and I will retire at the end of this month," Baca, 71, told reporters at Tuesday's press conference. His last 15 years were spent as sheriff atop a police force that patrols a region of Southern California with a population of roughly 10 million.
Under Baca's control, the LA County Sheriff's Department and its roughly 10,000 employees oversaw the largest jail system of its kind in the country. That administration has come under heavy attack in recent weeks, however, particularly in light of a federal probe that last month accused 18 current or former deputies from his department with an array of civil liberties violations.
Prosecutors brought the recent allegations against the Sheriff's Department after investigations conducted by a grand jury revealed "a wide scope of illegal conduct" waged under Baca's watch, US Attorney André Birotte Jr. said last month.
"The pattern of activity alleged in the obstruction of justice case shows how some members of the Sheriff's Department considered themselves to be above the law," Birotte said.
"Please know that I respect the criminal justice system, and no one is above the law," Baca responded at the time, adding that "99.9 percent of our employees are on the right track, doing the right thing."
Earlier this month, a civilian oversight body tasked with watching over the Sheriff's Department linked some LASD deputies with instances of sexual abuse, drug smuggling, grand theft and other crimes. A separate investigation conducted by the Los Angeles Times weeks earlier found that 188 of the 280 individuals hired by the department in 2010 had been rejected from other law enforcement agencies, including many who were previously disciplined due to allegations of misconduct. Months before then, a lawsuit accused the Sheriff's Office of colluding with imprisoned white supremacist gang members.
A federal jury found Baca liable for $100,000 as a result of failing to stop inmate abuse at one area facility under his control late last year, and the American Civil Liberties Union previously accused him of allowing instances of abuse to occur in a 2011 report. Now at the forefront of a national scandal, though, Baca says the time is right to finally retire.
"I will go out on my terms," he said Tuesday. "The reasons for doing so are so many. Some are most personal and private, but the prevailing one is the negative perception this upcoming campaign has brought to the exemplary service provided by the men and women of the Sheriff's Department."
"In my opinion, your Sheriff's Department is the greatest law enforcement agency in the world," he added.
According to NBC News, a source close to the case who spoke on condition of anonymity said Baca reached "a difficult decision," but one that was "in the best interests of the department and people of Los Angeles County."
"This was one of the most difficult decisions of the sheriff's professional career," the source said. "He made it clear that he was doing this to remove any distractions from the positive work that the L.A. County Sheriff's Department is doing on behalf of the county."
You can share this story on social media: