Koch brothers threaten to fire employees if Obama wins
Published time: 15 Oct, 2012 16:47
Edited time: 15 Oct, 2012 20:47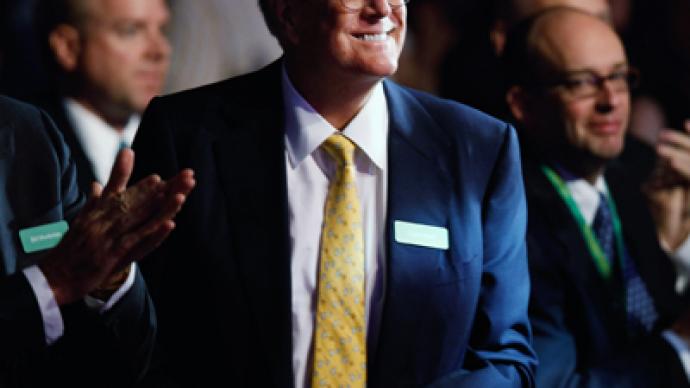 The billionaire Koch brothers this month threatened to fire many of their more than 50,000 employees if they dare to vote for President Obama or any other Democrats in the 2012 elections.
The Kansas-based Koch brothers, who run a multi-national group of companies called the Koch Industries, sent a voter information packet to 45,000 of its Georgia Pacific subsidiary this month, threatening that "many of our more than 50,000 US employees and contractors may suffer the consequences" if they vote for Democrats. The packet also included an op-ed by David Koch endorsing Mitt Romney and one by Charles Koch slamming Obama, reported the monthly magazine, In These Times.
The brothers also warned that electing Democrats would also lead to other consequences, including higher gasoline prices, runaway inflation and "other ills."
"This is true regardless of what your political affiliation might be," reads the cover letter to the packet, written by Koch Industries President and Chief Operating Officer Dave Robertson.
The brothers have already donated millions to Republican candidates and conservative causes, including an $18 million fundraiser for Romney at a beachfront home this summer.
Their threat has created a culture of fear among their employees, who worry they could lose their jobs for expressing their opinions. In September, a group of unionized employees at Georgia Pacific posed for a photograph with Democratic state Senate candidate Arnie Roblan. After the packet arrived in the mail, they grew worried that if the picture fell into the hands of the Koch brothers, it could cost them their jobs – especially since the Georgia Pacific plant is in the background.
But Koch Industries is not the only company seeking to control the votes of its employees. Florida billionaire David Siegel, CEO of Westgate Resorts, recently sent out an e-mail to 7,000 employees describing possible consequences of an Obama win.
"I can't tell you whom to vote for, and I certainly wouldn't interfere with your right to vote for whomever you choose," Siegel wrote in an e-mail first published by Gawker. But the billionaire CEO then warned that Obama's reelection would cost some of his employees their jobs.
"So where am I going with all this?" he asked. "It's quite simple. If any new taxes are levied on me, or my company, as our current President plans, I will have no choice but to reduce the size of this company. Rather than grow this company I will be forced to cut back. This means fewer jobs, less benefits and certainly less opportunity for everyone."
This e-mail is not the first attempt Siegel has made to keep Republicans in power. Earlier this year he claimed to have been "personally responsible" for former President George W. Bush's 2000 win, even though his methods may "not necessarily have been legal."
The largest privately held US coal company, Murray Energy, was also found to have pressured its employees to donate money to Republican candidates, The New Republic found.
"We have been insulted by every salaried employee who does not support our efforts," CEO Robert Murray wrote in a letter to employees, which listed names of those who had not yet attended fundraisers.
And last year, Delta Airlines offered free Washington, DC-bound flights to flight attendants who agreed to lobby for a Federal Aviation Administration bill that would make it more difficult for employees to unionize.
The Koch brothers threats are just the latest in a series of intimidation tactics by billionaire employers trying to encourage their large number of employees to vote like them.