Community kicks out paralyzed vet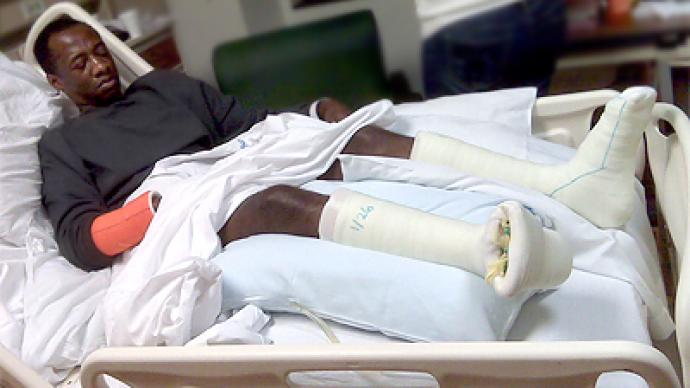 The national non-profit Home for Our Troops has built houses for over 100 severely disabled veterans across America since its start-up in 2004.
Army SFC Sean Gittens won't be one of those with a new house for his family, however, despite Home for Our Troops' efforts to get him one. The homeowners association in his Evans, Georgia community says that the home planned to be built in his Knob Hill subdivision would lower property values and has blocked construction as a result.The Gittens family currently rents a home in the subdivision, but after months of negotiations, the Knob Hill Property Owners Association has put their foot down against Home for Our Troops' plans. The non-profit says it would continue towards a new design for a home for the Gittens, but the family says they no longer want to live in the community.Sharon Gittens, the wife of Sean, told reporters this week that her family does not feel welcome in Knob Hill any longer. At a press conference on Monday, Sharon thanked the neighbors that supported her and her family, and asked them to embrace the veterans and not put all their focus on the values of their property.Sharon spoke on behalf of her husband, who is paralyzed and unable to speak or communicate as a result of a brain injury he received in battle. He served three tours with the US Army, and following several concussions received in Iraq between 2007 and 2008, suffered a brain aneurism and a stroke.SFC Gittens has been receiving at-home care from medical personnel, but now doctors will have to go elsewhere when the Gittens family leaves Knob Hill."I didn't want to put any kind of pressure on the family to think that because we had already bought this lot, that this was the end game, that it had to be here," says John Gonsalves, the founder of Home for Our Troops. "I couldn't live with my own conscience if I did that … they need to feel fine with where it is that we are going to build this home."Gonsalves adds, "We know that this is no way is a reflection on the community of Knob Hill and the people that live in here … We do this all over the country and we know that the American people are behind it."Sharon, however, feels like the homeowners association was in no way in favor of the construction. The president of the Knob Hill Property Owners Association declined to attend Monday's press conference, instead offering condolences via email."I think if this was important to them, at least one representative from the board would have been here today," says Sharon.When asked how she expects a Home for Our Troops home would improve Sean's situation, Sharon told the organization that "the assistance of receiving a specially adapted home . . . will eliminate many of our daily challenges and give Sean the freedom to have access to his entire home [and] interact more with our family."