Kansas KKK shooting suspect testified against fellow white supremacists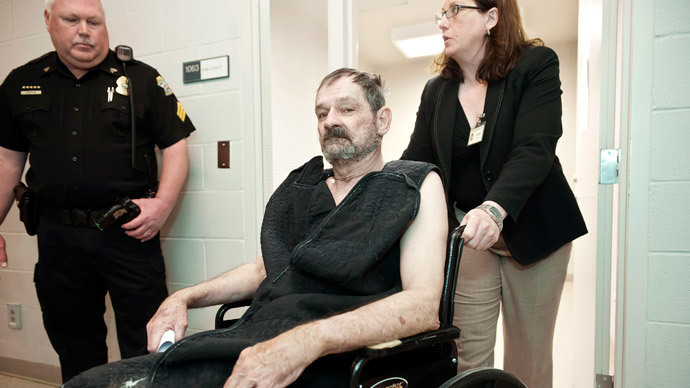 Frazier Glenn Miller, the founder of a KKK chapter arrested over the weekend for a triple homicide targeting a Jewish center, testified against fellow white supremacists in an unrelated murder in exchange for a lesser sentence, a new report reveals.
Miller – who founded the White Patriot Party – testified against Douglas Sheets, a junior member of the political party, in a 1989 trial in which Sheets was accused of murdering three men two years prior. Miller himself was in trouble because of his own 1987 arrest on weapons charges, with a North Carolina prosecutor threatening to add on enough counts that could put Miller behind bars for 200 years unless he provided evidence about his fellow racists.
"I was to plead guilty to one count of felony possession of a hand grenade and answer all questions posed to me by authorities," wrote Miller in his autobiography years later, as quoted by a Tuesday report in the Daily Beast. "In return, they would recommend a 5-year prison sentence, immunity from any further prosecution by either state or federal authorities, and entrance into the Federal Witness Protection Program which included the financial support of my family while I served my sentence."
Admitting that "a five-year sentence sounded a little more palatable than 200," Miller agreed. He arrived to court in 1989 to take the witness stand against Sheets who, along with another member of Miller's White Patriot Party, was accused of killing three North Carolina men who were believed to be gay.
Police did not directly tie Miller to the crime, although questions have been raised about whether they should have charged him due to a hate crime hit list that he distributed to his followers. The document explained how points would be doled out to members who murdered perceived enemies.
"888 for Morris Dees 9 (head of the Southern Poverty Law Center in Alabama); 50 for influential Jews, race traitors, politicians and judges, informants, government witnesses; 25 for abortionists; 20 for white race traitors, skalawags, carpetbaggers and Jews; 10 for queers; 5 for assorted mongrels and 1 for [blacks,]" the list read, as quoted by the Daily Beast.
Sheets was eventually acquitted after prosecutors failed to convince the jury that he was in town at the time of the murders. The defense questioned why the jury should trust Miller, while jumping on a detail that Miller revealed about a two-way mirror located near the scene of the crime – perhaps something he could only know about if he had been present at the time.
Miller later agreed to testify against 13 members of The Order, another white supremacist organization that was accused of orchestrating a number of robberies that netted millions of dollars. Miller told the court that he had close enough ties with The Order, and that the leader of the group had given him $200,000 to help fund the White Patriot Party.
Like in the first case, one juror would later say "the government witnesses were not believable."
Miller did, for a time, take cover in the Witness Protection Program but eventually came out of hiding and took up a job as a long-haul truck driver. He spent his spare time running for public office and leaving thousands of inflammatory comments on online message boards.
Now 73, the former US Army Green Beret, neo-Nazi, and Ku Klux Klan Grand Dragon could be facing the death penalty for killing three people in front of a Kansas Jewish community center, although none of the victims were in fact Jewish.
Just days before the shootings, the Anti-Defamation League (ADL) warned that while anti-Semitic crimes are near an all-time low in the US, the Passover holiday could stoke racial tension.
Abraham Foxman, the ADL National Director, told CNN that the "high number of violent in-your-face assaults is a sobering reminder that, despite the overall decline in anti-Semitic incidents, there is still a subset of Americans who are deeply infected with anti-Semitism and who feel emboldened enough to act out their bigotry."
You can share this story on social media: