US judge rules in downloaders' favor in porn-copyright case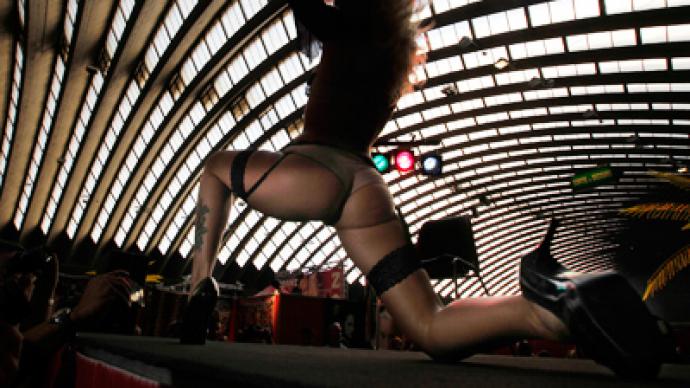 A California judge has blocked an attempt to prosecute alleged downloaders of copyrighted material in a move which is being championed as a win for American users of the Internet.
Hard Drive Productions, Inc., a US-based porn production house, had asked the District Court for the Northern District of California to force Internet service providers (ISPs) to provide them with the details of computer users they believed to have illegally downloaded one of their films, particularly the movie "Amateur Allure – Natalia." The company monitored illegal downloads of the dirty picture for a two-month span, then took the IP addresses linked to the transfer and told the court that they needed the names linked to the numerical Internet-IDs. Hard Drive Productions had asked for the names of 90 Internet subscribers they believe to have browsed the Web for illegal copies of the clip, but a judge responded that the information the plaintiffs were working with was not enough to prove guilt.Furthermore, the presiding judge said he had reservations against helping Hard Drive Productions because he believed their lawyers did not want to actually litigate with alleged copyright infringers. Instead, he ruled, he was weary that they were just trying to scare suspects into settling and spending upwards of thousands of dollars to make any court matter be dismissed.According to Hard Drive's attorneys, the IPs of users who used BitTorrent networks to download and watch the film would be red ink on the hands of the guilty parties. Although similar arguments have held up before, Judge Howard R. Lloyd says that suggesting the IPs belonged to the culprit, while perhaps true, could not be proved. While an IP address can be tied to a subscriber's Internet account, that does not guarantee that the person linked to that specific series of numbers was responsible for the download, the judge concludes."The court realizes that this decision may frustrate plaintiff and other copyright holders who, quite understandably, wish to curtail online infringement of their works. Unfortunately, it would appear that the technology that enables copyright infringement has outpaced technology that prevents it," Judge Lloyd explains in his ruling.While Judge Lloyd adds that "The court recognizes that plaintiff is aggrieved by the apparent infringement and is sympathetic toward its argument that lawsuits like this one are the only way for it to find and stop infringers," he adds, "However, the court will not assist a plaintiff who seems to have no desire to actually litigate but instead seems to be using the courts to pursue an extrajudicial business plan against possible infringers (and innocent others caught up in the ISP net)."Plaintiff seeks to enlist the aid of the court to obtain information through the litigation discovery process so that it can pursue a non-judicial remedy that focuses on extracting "settlement" payments from persons who may or may not be infringers. This the court is not willing to do," he adds.Judge Lloyd isn't the one who seems to think Hard Drive Productions is up to something sinister, either. Earlier this year, one of the 188 John Does named in a separate but similar lawsuit filed a counterclaim against the company, saying their allegations to settle copyright infringement charges were "baseless and unfounded." Seth Abrams of the Oakland, California area filed a claim against Hard Drive Productions, saying that their attempt to pursue statutory damages for allegedly downloading the movie "Amateur Allure — Samantha Saint" were "designed to threaten, notify, intimidate,embarrass, shame andtocoerce" him into paying a smaller settlement.
You can share this story on social media: