US Intel committees approve arming Syrian rebels, top general warns of costs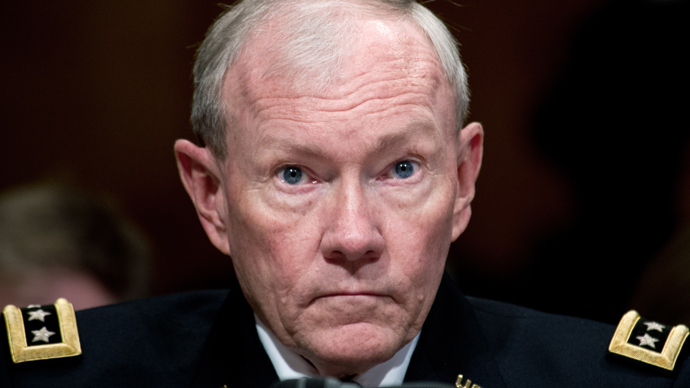 The House and Senate Intelligence Committees have given a green light to arm Syrian rebels, as their concerns were alleviated. But a top US general warned that high costs of military options could reach billions.
Martin Dempsey, the chairman of the US Joint Chiefs of Staff and the highest-ranking American military advisor, wrote that a no-fly zone over Syria would cost the US between $500 million and $1 billion a month to maintain, and may be ineffective because the Syrian army relies on artillery, not air support, to fight the insurrection.

In the meantime, US President Barack Obama will continue with the plan to arm Syrian rebels after several congressional concerns were alleviated, Reuters quoted officials as saying. "We believe we are in a position that the administration can move forward,"House of Representatives Intelligence Committee Chairman Mike Rogers said.
The House and Senate intelligence committees gave a green light to send CIA weapons shipments to opposition fighters in Syria, Washington Post reported, adding that the US will use the money already in the CIA's budget and transfer it to the Syria operation. The plan was announced last month by the Obama administration and involves giving small arms and ammunition to some of the 1,200 groups of Syrian rebels, some of which have known affiliations with al-Qaeda. 
The infrastructure is already in place and arms are expected to start coming in the next several weeks.
Dempsey's letter, dated July 19 and made public July 22, was written in response to a contentious meeting with Senator John McCain, who accused Dempsey of withholding information during a previous meeting with the Senate Armed Services Committee. McCain has threatened to place a hold on Dempsey's nomination for another two-year term as the chairman of the Joint Chiefs unless the general provides more details on hypothetical military action.
Scenarios outlined by Dempsey included: Train, Advise and Assist the Opposition; Conduct Limited Stand-off Strikes; Establish a No-Fly Zone; Establish Buffer Zones; Control Chemical Weapons.

The chairman warned that any decision would need to be weighed carefully and treated as "no less than an act of war."

McCain and the other Senate Armed Services Committee members previously pressed Dempsey to consider the "costs, benefits and risks associated with training and arming vetted elements of the Syrian opposition? In your view, could such action alone be sufficient to adequately build the military capability of the moderate opposition in Syria and create the necessary conditions for the administration's stated policy objective - Bashar Assad's departure and a negotiated solution to the conflict in Syria - to succeed?"

Dempsey pushed lawmakers to consider the long-term consequences any military action would mean.

"Risks include the loss of US aircraft, which would require us to insert personnel recovery forces," he replied. "It may also fail to reduce the violence or shift momentum because the regime relies overwhelmingly on surfaces fires - mortars, artillery and missiles."

He reminded the committee that virtually every scenario "could also average well over one billion dollars a month" and could provide aid to al-Qaeda or other radical groups. Along with this came a warning of no guarantee that Syrian chemical weapons would be put under an American safeguard.

"Should the regime's institutions collapse in the absence of a viable opposition, we could inadvertently empower extremists or unleash the very chemical weapons we seek to control," he wrote. "It would be inappropriate for me to try to influence the decision with me rendering an opinion in public about what kind of force we should use."

You can share this story on social media: