UK PM Cameron pledges not to arm 'bad guys' in Syria
Britain will not be supplying the Syrian opposition forces with arms amid fears it could fall into the hands "bad guys', PM David Cameron has signaled, despite London having pushed for the lifting of the EU arms embargo.
David Cameron said he is still committed to helping rebel groups in the fight against the government but acknowledged that these groups include, in his words, "a lot of bad guys." In an interview with the BBC, Cameron stated that it would be unwise for the country to abandon the rebels, promising that Britain would continue to provide "non-lethal" aid to the Syrian opposition forces. 
"(There's) no good complaining about the rebels if you're not going to try and help those that want a free, democratic, pluralistic Syria," he said.
While acknowledging the presence of extremist factions amongst rebel groups, Cameron simultaneously criticized the government of Bashar al-Assad.
"I think he may be stronger than he was a few months ago but I'd still describe the situation as a stalemate," he said. There was "appalling behavior from this dreadful regime using chemical weapons," Cameron claimed, admitting though that there also was "too much extremism amongst some of the rebels."
However, the prime minister did not quite manage to make a full and sincere confirmation that Britain would not send weapons with no ifs, ands, or buts.
"We're not intervening by supplying weapons, but I think we can with partners... strengthen those parts of the Syrian opposition that really do represent the Syrian people," Cameron said on the BBC's Andrew Marr Show. "We're working with other like-minded countries including those in the region," he continued.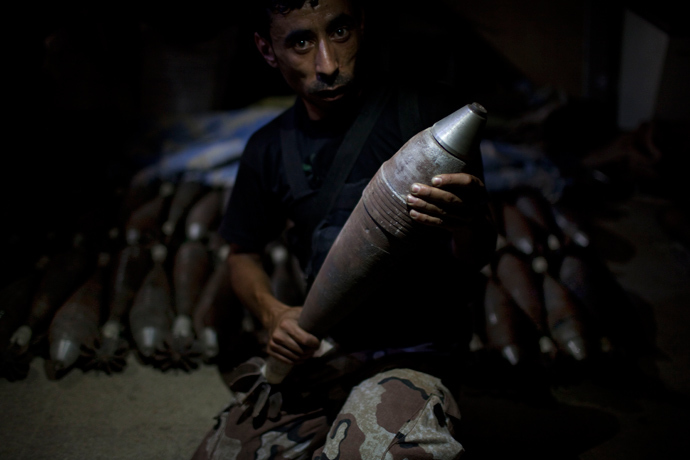 Cameron's government – along with France – went against 25 out of the then-27 EU member states who wanted to renew the arms embargo on Syria at the end of May. As a result of the opposition form the two, the embargo was dropped meaning the rebels could then be supplied with arms.
Since the early stage of the Syrian conflict, Cameron has been calling on the international community to engage more closely with the Syrian rebels and saying Damascus must feel pressure to be defeated.
Now, Cameron's rhetoric has slightly changed, but political analyst Deepak Tripathi believes that is only because the prime minister does not have enough support either in parliament or the international community to push through the idea of openly arming the rebels.
"At home he will have difficulty in getting the Parliament's approval, because there is quite a lot of unease after Iraq. His coalition partners, the Liberal Democrats are not supportive, and public opinion is not supportive," Tripathi explained.
"Abroad it is being realized in the West that no matter how much there are assurances from western governments that only good guys will get help in terms of arms supplies, that's not the case on the ground," he added.
You can share this story on social media: