Gary Johnson could decide fate of presidential race in Colorado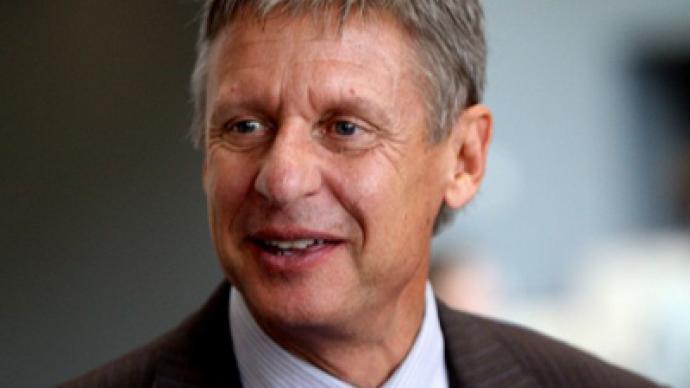 With the presidential election only days away, some long and costly campaigns are finally about to wrap up. Even if he's not likely to win the race, though, Libertarian candidate Gary Johnson made a passionate plea to voters in Colorado this week.
Johnson, the 60-year-old, anti-war, anti-drone, former governor of New Mexico, is not polling beyond the single digits in the 48 states he will be on the ballot come November 6. As the main contenders in this year's election remain neck-and-neck, however, Gov. Johnson has a very real chance of tossing a wrench in the campaigns of both US President Barack Obama and Mitt Romney, the Republican Party challenger."All factors are important in a 50/50 race," Colorado independent political analyst Eric Sondermann tells the Denver Post about what role Gov. Johnson could have come Election Day. "If it's 51/49, then I don't think it's a factor." Only days away from the big show-down, though, Romney and Obama are polling equally in Colorado, leaving the third-party challenger possibly spoiling either the incumbent or his GOP opponent's chance in the state, and perhaps the country given the nine electoral votes a Colorado victory carries.Thursday night, Gov. Johnson spoke before a packed room at the University of Colorado in Boulder where he appealed to independent voters who are still uncertain about which way to cast their ballots next week. "I get the thing all the time about a wasted vote," Johnson said days earlier during a separate address at a state school. "Wasting your vote is voting for somebody you don't believe in. That's wasting your vote.""A vote for me," Johnson would later tell reporters, "really makes a statement.""There's a lot of support for my message here. You can feel it," Johnson told the UK's Guardian afterwards. "Young people who are disappointed with the president are listening to what I have to say."Advisors for President Obama have heard that warning loud and clear and, along with the Romney campaign, are attempting to keep Gov. Johnson from spoiling either mainstream candidate's chance this week. In an interview with Capitol Report New Mexico conducted on Halloween, the Libertarian said that Democrats were even staging an anti-Johnson rally to keep undecided voters from taking the third-party route."Some Democrats there came out in protest of me because I guess the pro-war, anti-marijuana college Democrats there think I'm taking votes away from Obama," Johnson told them. "I view it as a compliment."According to the Guardian, those warnings from the left are heating up with the election only days away. The paper reports that Dan Gould, chair of the Boulder county Democratic party, emailed supporters informing them of the threat Gov. Johnson really poses."I need your help to put out a spark before it grows into a fire," he wrote. "He is trying hard to peel student votes away from President Obama around the issue of deregulation of marijuana. With Colorado being so vital and so close at this point, we can't let that happen."Polling data from Friday suggests that that's a very real possibility.Gov. Johnson will debate Green Party candidate Jill Stein live on RT Monday evening, Election Day eve.
You can share this story on social media: