Jimmy Carter entrusts secrets to snail mail: NSA might monitor his email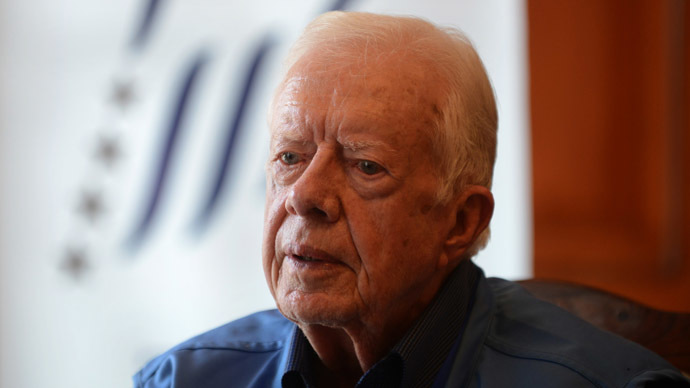 ​Former American president is aware his emails could be monitored by US intelligence agencies excessively "liberalized" under President Obama so he prefers to send letters via 'snail mail' to ensure the privacy of correspondence.
In an interview with the NBC TV channel dedicated to the publication of his new book, 'A Call to Action: Women, Religion, Violence, and Power', 89-year-old Jimmy Carter said he does not trust electronic communications because they could be monitored.
"You know, I have felt that my own communications are probably monitored," Carter told NBC's Andrea Mitchell.
"When I want to communicate with a foreign leader privately, I type or write a letter myself, put it in the post office and mail it," continued Carter in an interview aired on Sunday on NBC's "Meet the Press."
"Old fashioned snail mail," Andrea Mitchell commented.
"Yeah. Because I believe if I send an email, it will be monitored," the 39th American president confessed.
Last June, Jimmy Carter said in an interview with CNN that "the invasion of human rights and American privacy has gone too far."
In July, he expressed support for Edward Snowden, saying that "America has no functioning democracy at this moment".
Jimmy Carter accused the NSA and other US intelligence agencies of abusing the very idea of ensuring homeland security through gathering intelligence.
"That has been extremely liberalized and, I think, abused by our own intelligence agencies," Carter said.
Self-sufficing Obama
At the same time Carter refused to criticize the president in office, under whom the US intelligence agencies have possibly reached maximum electronic surveillance potential worldwide.
"I don't have any criticism of him," Carter said of the 44th president, Barack Obama.
When asked about whether President Obama ever called him for advice, Carter had to say that "unfortunately, the answer is no."
"President Obama doesn't. But previous presidents have called on me and the Carter Center to take action," Carter said, noting that a possible reason for that is the public position of the Carter Center on the Israeli-Palestinian conflict.
"The Carter Center [took] a very strong and public position of equal treatment between the Palestinians and the Israelis. And I think this was a sensitive area in which the president didn't want to be involved," Jimmy Carter revealed.
Nonetheless, Carter was asked, regarding the current crisis in Ukraine, what advice would he give to President Obama in "dealing with [Russian President] Vladimir Putin?"
"Politically, there has to be a concerted international prohibition against Putin going any further than Crimea," answered Carter.
You can share this story on social media: