Jesse Jackson Jr. wins House race without leaving rehab
Published time: 7 Nov, 2012 20:31
Edited time: 8 Nov, 2012 00:31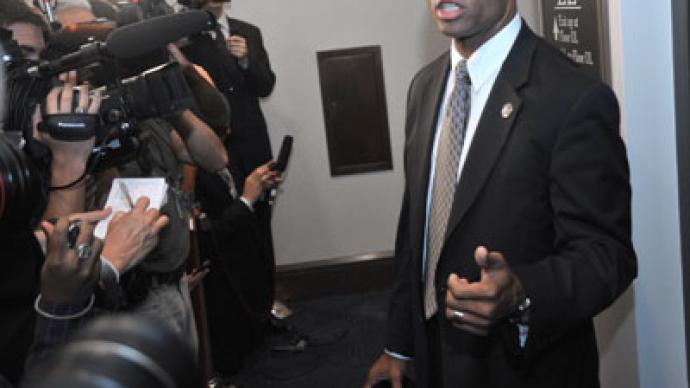 On Election Day, Rep. Jesse Jackson Jr. sat in a Minnesota hospital being treated for depression and bipolar disorder, where he had been for five months. Despite his absence, the congressman was re-elected to his position without even campaigning.
Jackson won his re-election by a landslide. With 63 percent of the popular vote, he easily beat Republican rival Brian Woodworth and Independent Marcus Lewis from his hospital bed. The nine-term congressman had taken a leave of absence from Congress and had not campaigned for his reelection. Even when he received medical help in Washington in September, he decided not to go back to work, and hasn't voted since June.
Avoiding the press and potential voters, it had seemed like Jackson disappeared. His main acknowledgement to voters was a robocall message his staff sent constituents in late October, asking for support. When the congressman was once again awarded his position, he thanked his supporters in a written statement and continued to spend the night in the Mayo Clinic in Minnesota. Jackson gave no speeches, held no re-election celebration and did not verbally address his supporters.
"My deep and sincere thanks to the people of the 2ndCongressional District, I am humbled and moved by the support shown today," he said in a written statement. "Everyday, I think about your needs and concerns. Once the Doctors approve my return to work, I will continue to be the progressive fighter you have known for years."
Opponents of the Democratic congressman have expressed their anger on Twitter, referring his victory as an embarrassment.
"Talk about a safe seat: Jesse Jackson Jr. re-elected with mental health problems, corruption allegations and no campaign," tweeted @jessewashington.
"Allen West fights for America and he loses to a drunk. Jesse Jackson Jr. missed work for 5 months, gets reelected. America gone crazy & sad," tweeted @Wethepeople4US
Alongside his mental health problems, Jackson may be in a lot of legal trouble. Last month, federal prosecutors and FBI agents launched a criminal investigation to determine if the congressman gained and used money illegally. Investigators are concerned that Jackson may have misused funds for his congressional office, stealing money to decorate his Washington, DC home.
The House Ethics Committee is also attempting to determine if Jackson was involved in conducting illegal monetary bribes to be appointed to Obama's former Senate seat. One of Jackson's emissaries was arrested on 17 counts of fraud last June – the time that Jackson disappeared from office – for offering cash to then-Gov. Rod Blagojevich in exchange for giving Jackson the seat.
The emissary, Raghuveer Nayak, claims Jackson authorized the $6 million bribe. But right around the time that allegations against Jackson materialized, the nine-term congressman disappeared into the confines of a clinic that worked to treat his depression.
As a re-elected congressman, Jackson will be required to eventually return to work. Congressmen who take a leave of absence continue to get paid as long as their excuse is deemed sufficient.