Florida vote is a disaster even before it officially starts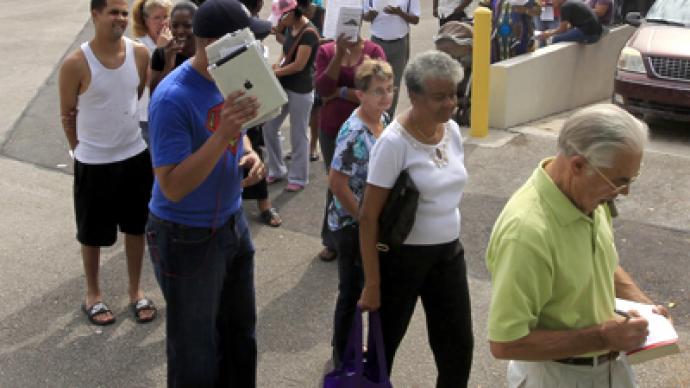 Early voting chaos in Florida has deterred some residents from casting their ballots. With lines as long as eight hours, many decided not to wait, which prompted a federal lawsuit against South Florida for unjustifiably burdening the right to vote.
The Florida Democratic Party filed the lawsuit Sunday in an attempt to force the state to extend early voting hours in South Florida – including in Palm Beach, Miami-Dade and Broward County, where 32 percent of all Florida Democrats reside. The lawsuit was filed after some voters waited in line for seven or eight hours and others gave up and decided not to vote at all.The wait proved particularly difficult for the elderly and parents of children, who needed to get back home."The extraordinarily long lines deterred or prevented voters from waiting to vote," the lawsuit states. "Some voters left the polling sites upon learning of the expected wait, and others refused to line up altogether. These long lines and extreme delays unduly and unjustifiably burdened the right to vote."Myrna Peralta, a Floridian who waited in line with her four-year-old grandson for two hours, told the Miami Herald that she was outraged by the chaos."This is America, not a third-world country," she said. "They should have been prepared."
The Democrats claimed that an emergency order was required in order to prevent frustrated voters from leaving the polls at the sight of the lines. In response, election officials in Miami-Dade and Palm Beach said they would permit voters to turn in absentee ballots to avoid them.But Dan Smith, a political science professor at the University of Florida, told the Huffington Post that even absentee ballots could cause some votes to remain uncounted."Absentee ballots have a much higher rejection rate for minorities and young people, if you look at the Aug. 14 primary," he said.Florida election officials have never been eager to extend early voting. On Thursday, an early voting extension request was made by Democrats and denied by Gov. Rick Scott, who said it was unnecessary. Last year, the governor reduced Florida's early voting period from 14 to eight days, which has been taking a toll on the election this year.Amanda Terkel, Senior Political Reporter and Politics Manager at the Huffington Post, wrote that typically the majority of early voters are Democrats."Democrats are traditionally more likely to vote early, which is why many in the party have ascribed political motives to Scott's restriction of the process," she wrote in a blog.
In an important swing state like Florida, any voting prevention methods could have an impact on the election turnout. Whether people decide to fight the chaos and cast their ballots or stay away from the polls could determine who wins Florida's 29 electoral votes."Because of Governor Scott's refusal to follow precedent and extend early voting hours in the face of unprecedented voter turnout in South Florida, we are requesting in federal court that more Floridians have a meaningful chance to early vote," said Rod Smith, the chairman of the Florida Democratic Party.
You can share this story on social media: