Homeless man shot to death by police after being caught illegally camping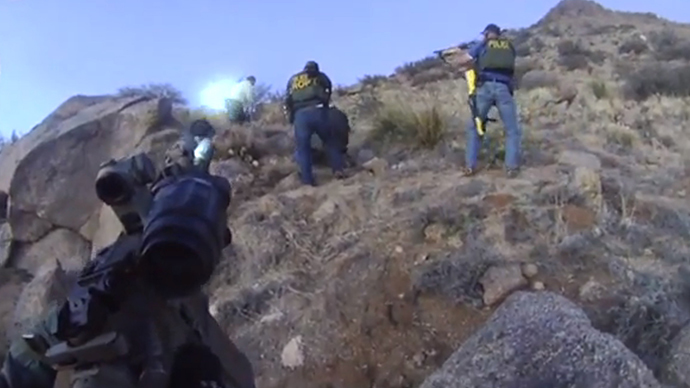 The Albuquerque Police Department in the state of New Mexico is coming under fire following the release of video footage taken from the helmet-mounted camera of an officer who shot and killed a man earlier this month for camping.
James Boyd, a 38-year-old homeless man thought to be schizophrenic, was shot by the Albuquerque PD on Sunday, March 16 after he became engaged in an hours-long standoff with officers who caught him illegally camping in the Sandi foothills. He was pronounced dead the next day.
Late last week, the APD released video footage taken from the helmetcam of an officer on the scene of the crime that shows a cop opening fire on Boyd while his back was turned to the police. The clip has since been widely circulated online and caused the local police force to become the target of widespread condemnation.
In the video, Boyd is heard telling the police, "Don't change up the agreement, I'm going to try to walk with you." As he reaches for his belongings, however, an officer says "Do it" and a flash-bang device is fired at the suspect while a law enforcement dog is let loose. Boyd remains standing a few yards from the police seemingly unaffected by the blast, but moments later, the police say, he reached for something that they believed to be a knife, prompting Officers Dominque Perez and Keith Sandy to fire a total of six shots into the man.
As Boyd laid motionless on a rock with his face in a pool of blood, the police continued to bark orders at him before firing further rounds of non-lethal ammunition.
When the APD released the video on Friday, New Albuquerque Police Chief Gorden Eden said that the video showed that the shooting is justified. It's since been proven that Boyd had an extensive criminal past, and mentioned killing the police earlier during the encounter.
"I'm almost going to kill you right now. Don't give me another directive. Don't attempt to give me, the Department of Defense, another directive," Boyd said earlier on.
According to KOAT News, previous incidents on Boyd's record involve cases where he told people that he was God, or on a special mission handed-down to him directly by former-US President Gerald Ford. In 2009 he cut the face of a homeless man with a box cutter, and during a 2010 incident he was apprehended with a knife and razor blade in his waistband.
With regards to this month's incident, Chief Eden said Boyd posed a "direct threat" to his officers and cited Garner v. Tennessee, a Supreme Court of the United States decision that found that the police can use deadly force in certain circumstances.
Grassroots organization ProgressNow reported that Albuquerque police have shot more people than the New York Police Department since 2010, despite being one-sixteenth the size, and has been the subject of a Department of Justice federal probe when the APD's fatal shooting record was called into question.
According to the Huffington Post, Officer Sandy — one of the two cops responsible for firing the shots against Boyd earlier this month — was fired from the New Mexico State Police in 2007 over allegations of fraud.
"When Sandy joined the APD, the department said he would be a civilian employee and wouldn't have a gun or badge," Sebastian Murdock wrote for HuffPo.
Albuquerque's City Council President Ken Sanchez has asked that a federal investigation be opened up to review Boyd's death, and a protest is scheduled outside of police headquarters on Tuesday afternoon.
You can share this story on social media: