Israel endures Palestinian "day of rage" as Washington fumes on sidelines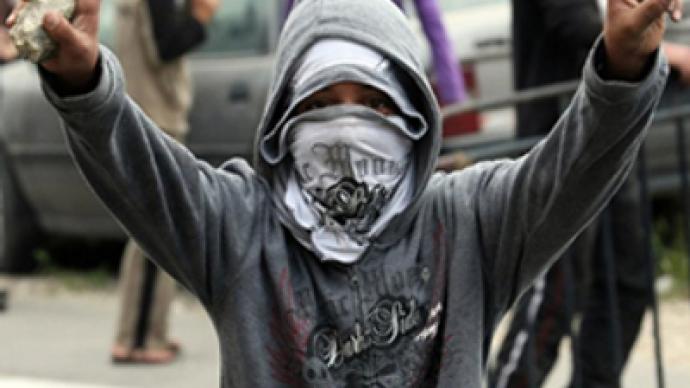 As Israel attempts to console Washington over an ill-timed announcement on new settlement construction, Palestinians have also weighed in on the matter, with violence erupting in East Jerusalem on Tuesday.
The White House is still stinging over the slap it received at the hands of Israeli Prime Minister Benjamin Netanyahu, whose government last week announced the construction of 1,600 new Jewish settlements in occupied East Jerusalem at the very same time that Vice President Joseph Biden was in town, trumping for peace.
Biden snubbed Netanyahu the next day by showing up 90 minutes late to a scheduled dinner while Mr. and Mrs. Netanyahu were left waiting on opposite sides of small Israeli and American flags that decorated the table. Needless to say, when the Bidens finally arrived, the table talk was strained.
But Washington's response to what was quickly interpreted as a deliberate and destructive move for purely political means did not stop there. Ironically, the first time Team Obama took off its kid gloves and showed some backbone was against its long-term ally.
US Secretary Hillary Clinton weighed in first by stressing its support of a two-state solution, while calling the surprise announcement of new Jewish settlement construction "insulting".
"We have to make clear to our Israeli friends and partners that the two-state solution – which we support, which the prime minister himself says he supports – requires confidence-building measures on both sides," Clinton told CNN. "And the announcement of the settlements the very day that the vice president was there was insulting."
The controversial construction announcement is set to take place in the Ramat Shlomo neighborhood – a disputed territory in East Jerusalem that Palestinians want as the capital of their future state. Western-backed Palestinian president Mahmud Abbas said he would not return to peace talks without a complete settlements freeze.
Next up was David Axelrod, Senior Advisor for Barack Obama.
Quartet of international mediators to meet in Moscow on Friday
"On March 18-19, US Secretary of State Hillary Clinton, accompanied by Senator George Mitchell, will participate in a meeting of the Quartet with United Nations Secretary General Ban Ki-Moon, Russian Foreign Minister Sergei Lavrov, and European Union High Representative Catherine Ashton, as well as Quartet Representative Tony Blair, to discuss efforts to promote Middle East peace," Philip J. Crowley, Assistant Secretary, Bureau of Public Affairs said. Clinton will also meet with senior Russian officials to discuss progress on a successor agreement to the START treaty, cooperation on non-proliferation, counter-terrorism measures, regional security issues, and the work of the Bilateral Presidential Commission, he said.
"We just got proximity talks going between the Palestinians and the Israelis, and this seemed calculated to undermine that," Axelrod told ABC News. "I think the Israelis understand why we are upset and what it is we want to see move forward."
Finally, a visit to Israel by US special envoy George Mitchell was cancelled on Tuesday pending Israel's response to a series of American demands.
Mitchell had been due to leave Washington for Israel early on Monday but delayed his trip in the latest sign that the Obama administration's patience has run out over Israel's refusal to stop new settlement construction.
"Netanyahu has refused to draw a line under a crisis in Israeli-US relations that erupted last week when Israel announced plans for 1,600 new housing units in Ramat Shlomo, an orthodox Jewish suburb beyond the Green Line in the northeast of the city," Haaretz, the Israeli daily reported on Tuesday.
Despite the American warnings, Israel would continue to build in Jerusalem, Netanyahu said on Monday.
"For the past 40 years, no Israeli government ever limited construction in the neighborhoods of Jerusalem," he said.
Israel's announcement attracted criticism from a number of national governments and international bodies, including the United Nations, the European Union and Russia, who comprise the Quartet of international mediators in Israeli-Palestinian peace talks.
The Quartet will convene in Moscow on March 19 for further deliberations, which are expected to touch upon the settlement controversy.
Meanwhile, Palestinians declared Tuesday a "day of rage" as dozens of Palestinian demonstrators clashed with Israeli police in East Jerusalem to protest Israel's consecration of an ancient synagogue in the city one day earlier, the temporary closure of the Temple Mount, the famous mosque located smack in the Old City of East Jerusalem that is considered to be one of the most sacred places for Muslims, and, of course, the ongoing Jewish settlement construction.
Palestinians hurled stones at police and erected burning barricades in several areas of East Jerusalem, which Israel captured along with the West Bank during the 1967 Six-Day War.
Israeli and Palestinian perspectives of the crisis
Dr. Evgeny Satanovsky, president of the Institute of Middle East Studies, believes that any hope to build a Palestinian state will fail, "regardless of what US President Barack Obama wants."
"Whether President Obama decides that he needs this [Palestinian] state or not does not matter," Satanovsky told RT. "States are created not because of quartets, sponsors, or American presidents."
Satanovsky, who holds strong opinions on the Palestinian question, said that he doubted the Israeli side would be willing to continue peace negotiations for another 15 years.
"The only idea of the Palestinian leadership for the past 15 years was to be troublemakers, both for their own people, and for Israel as their partner, and to have money," the president of the Institute of Middle East Studies said. "Every time when the Palestinian side has an opportunity for a state, they find another argument to tell Israelis to go to hell. That was for 15 years, and I'm not sure that Israel will prolong this strange situation for another 15 years."
Satanovsky went on to say that there is no trust on the Israeli side, nor are there options for any Israeli government to give the Palestinians more than they have, while saying that many Palestinians wanted to earn a living building Israeli settlements, but authorities in Ramallah denied them the opportunity.
"Ramallah made a special law to put in prison Palestinians who work to build Israeli settlements," he argued. "Palestinians have these jobs and they are very happy to build these settlements for the salaries they have."
Concerning Israel's perception of the American president, Satanovsky continued with his blunt assessments:
"The Israeli public understands that Obama is not a friend," he said, adding the possibility that maybe the American president is "even an enemy."
Meanwhile, on the other side of the heated debate, Fayed Mustafa, the Palestinian National Authority's ambassador to Russia, said that the ongoing construction of Israeli settlements is "one of the main obstacles for achieving peace."
However, the Palestinian ambassador held out hope that the Quartet of international mediators will compel Israel to heed international law during their meeting in Moscow.
"Countries all over the world are condemning Israeli activities," Ambassador Mustafa told RT. "We expect that there will be a clear message for the Israeli side to stop all the settlement construction, and especially in East Jerusalem."
The Palestinian ambassador then expressed his doubts over Prime Minister Benjamin Netanyahu's commitment to the peace process, while saying the current Israeli government is "causing problems around the world."
"There is a lot of doubt that he is serious about achieving peace. He has said that he will continue building Jewish settlements in Jerusalem, and on the other Palestinian lands," Ambassador Mustafa said. "But not only are the Palestinians facing problems from this Israeli government, but also governments all over the world are facing problems from this government."
Mustafa added, "For the past 60 years, the Palestinian people have lived in a very difficult situation. And the Palestinian people are frustrated with the negotiations of the last 20 years. We have been negotiating with Israel since 1991. The Palestinian people are beginning to discover that the Israelis are just using the negotiations as a cover to continue their activities."
But Ambassador Fayed Mustafa's faith in President Barack Obama's ability to break the Israeli-Palestinian stalemate was also clouded.
"In the beginning, when Barack Obama announced that he will achieve peace in the region, and we listened to his speech in Cairo and Istanbul, and he talked clearly about the new settlements… this made us very hopeful that the coming era will bring peace to the area.
"But the world is still waiting for them to achieve what they set out to achieve: establishing peace," the ambassador said.
You can share this story on social media: