Jimmy Carter says Russian Israelis want peace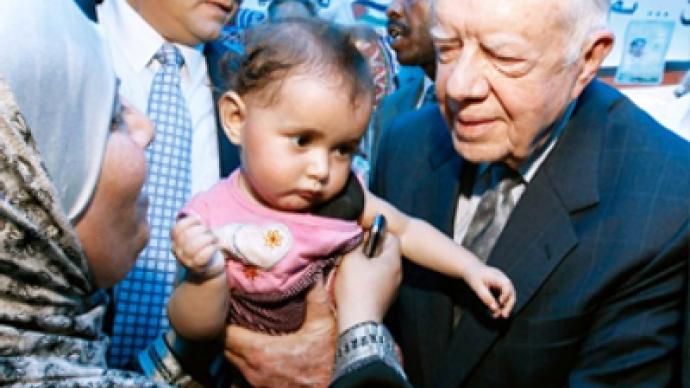 Two former US presidents have different opinions on the role that Russian immigrants play in the Middle East peace process.
Bill Clinton "should not have said" that the Russian Jews are an obstacle to finding peace solution to the Palestinian-Israeli conflict, 39th US President Jimmy Carter has said.
A month ago, Clinton described Jewish immigrants from Russia as a key obstacle for peace, because they refuse to surrender their homes if a peace deal with Palestinians is reached.
Prime Minister Benjamin Netanyahu then said that Clinton must know that immigrants from the former Soviet Union had made a huge contribution to the strengthening and development of Israel.
Clinton "made a mistake," but he "would say he misspoke" if he met with Russian Israelis, Carter said on Saturday. He was speaking with a group of immigrants from Russia during his Middle East trip as part of a joint UN-Interpeace program's effort to expose Russian-speaking Israelis to the peace process in the region.
Carter stressed he had known Russian Jews in Israel for 40 years. RIA Novosti news agency quoted him as saying: "I know that as much as anyone in Israel, perhaps more on an average, the Russian Jews that live here want to see peace." They want to see Israel recognized as all nations "to live without threat," the added.
There are still many obstacles to peace in the Middle East, Carter said. He has several times criticized Israel's position in the peaceful settlement, calling on the country to lift the blockade of the Gaza Strip, halt settlement construction activities and to talk with all Palestinian political movements.
Sergey Borisov, RT
You can share this story on social media: