After Iowa, it's Ron Paul vs Romney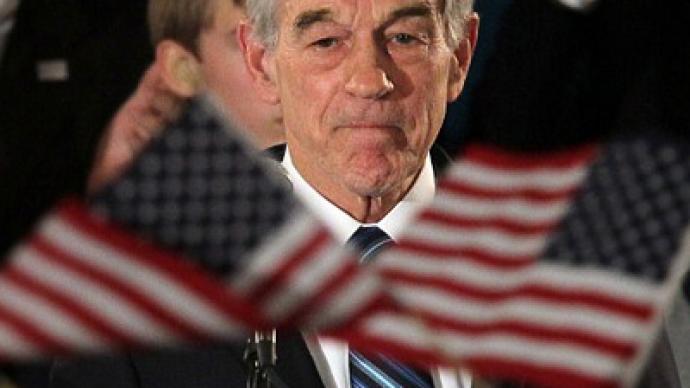 Votes in Iowa Wednesday night might have put Ron Paul in third place just behind Mitt Romney and Rick Santorum, but strategists for the Texas congressman are citing a victory nonetheless.
According to the Ron Paul camp, the steam that surged Rick Santorum to the top tier in recent days is staggering and the former Pennsylvania senator will be unable to show any success continuing out of Iowa. Instead, rather, the Republican Party will be left with only two choices in the months leading up to the GOP National Convention: Ron Paul and Mitt Romney.Mitt Romney has remained a frontrunner since he first threw his hat in the race for the Republican Party's nomination. Only in recent weeks has an explosive campaign from Santorum's camp managed to help the senator soar to the top-tier. With poor polling in the months prior and a well of funding now drying up, however, Santorum's esteem among the GOP can expect to soon shrivel. While Romney's popularity has plateaued through his campaign and has secured him the title of frontrunner, Santorum's rise in the polls has only occurred in recent weeks and had so far followed the same cycle that previously propelled Rick Perry, Michele Bachmann and Newt Gingrich to the top of the polls. In the months leading up to caucus day, however, Ron Paul has only surged in popularity and has campaign predicts that he will only pick up more steam on the road to the White House."We have tremendous opportunity to continue this momentum, it won't be long that there's going to be an election up in New Hampshire, and believe me, this momentum is going to continue and this movement is going to continue and we are going to keep scoring," Paul said Tuesday night from Iowa. "So tonight, we have come out of an election where there were essentially three winners, three top vote-getters and we will go on, we will raise the money, I have no doubt about the volunteers."Skeptics say that Santorum won't be able to stay in the game like Paul. While Santorum succeeded in Iowa, such success came only after investing a massive cache of time and money in the caucus state and neglecting to focus on any other markets that will prove pivotal in the race.Santorum's surge can perhaps best be pinned on his Christian ideals that rang close to home in the Midwest's Iowa. Out in New Hampshire, however, Santorum's speeches are likely to resonate with less recognition and he will be forced to rely on other ways to drawing in voters. Unfortunately for him, it doesn't seem like those plans are in the cards."The question is, now that he's in the top two in Iowa … going forward, does he have a campaign underneath him? And the answer is unfortunately, no." Charlie Black, a former adviser to John McCain, tells Reuters. "Santorum has almost no organization in New Hampshire," Fergus Cullen, a former state GOP chairman, adds to NPR. "He worked very hard here in the first six months, but has almost nothing to show for it."Jesse Benton, campaigning for Ron Paul, remarked on Tuesday that "There were three tickets out of Iowa, and Ron Paul earned one of them." Even if one of those tickets was bequeathed to Santorum, Benton adds in a statement that "One of the three tickets, the one belonging to Rick Santorum, is a dead-end due to Santorum's weak fundraising and lack of national campaign organization." This is now a two way race between establishment candidate Mitt Romney and the candidate for real change, Ron Paul," adds Benton. In New Hampshire, where the race for the GOP nomination will move next on the heels of an upcoming debate and primary, the latest polling from the New York Times puts Santorum in fifth place, sandwiched between Newt Gingrich and Michele Bachmann. Bachmann, who placed sixth in Iowa, withdrew from the race hours after the results came in, formally seceding on Wednesday morning.
You can share this story on social media: