Florida company announces mass production of biofuel made of waste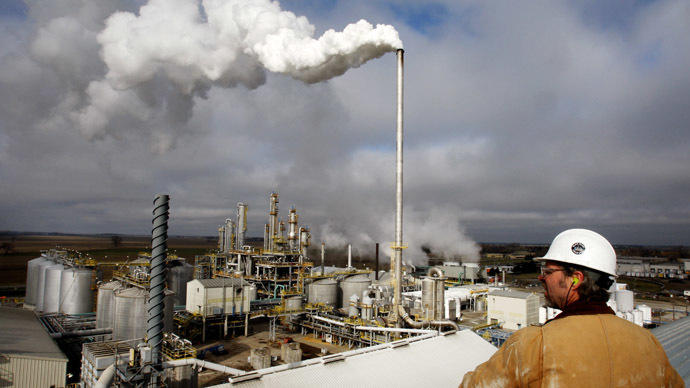 The Florida biofuel company INEOS Bio has successfully turned municipal solid waste into ethanol, marking a major milestone for the future of fossil fuel production.
The biofuel company on Wednesday announced its landmark achievement. The facility is the first large-scale biorefinery to successfully turn trash into ethanol, using technology that relies on biological and thermochemical processes.
Once the Indian River BioEnergy Center in Vero Beach, Fla., which was jointly built by INEOS and its venture partner NPE Florida, begins its operations, the company says it will be able to produce eight million US gallons of advanced biofuels each year from municipal waste. That means lawn clippings, woody biomass, and vegetative and yard waste could be used to make bioethanol, which would serve as an alternative to fossil fuels. Citrus, oak, pine and pallet wood waste can also be turned into renewable energy.
The company reports that its first bioethanol shipments will be released in August, and that the Indian River BioEnergy Center is producing commercial quantities of transportation fuel and exporting renewable power. 
"We are delighted with the progress made by our team at Vero Beach," Dr. Peter Williams, CEO of INEOS Bio and Chairman of INEOS New Planet BioEnergy, said in a press release. "They have successfully addressed the challenges of moving a new technology to large production scale for the very first time. Consequently, we are now pleased to announce that we are producing commercial quantities of bioethanol from vegetative and wood waste, and at the same time exporting power to the local community – a world first."
Williams said that the company will spend the rest of the year getting the plant up to speed to produce the promised amounts of ethanol. Building the facility cost more than $130 million and created more than 400 jobs. Although INEOS acquired the technology to turn trash into treasure about five years ago, it has been under development for two decades, INEOS Vice President Dan Cummings announced.
"My 20-year career today culminated in success," Valerie Reed, acting director of the Department of Energy's Bioenergy Technologies Office told E&E News, explaining how she first received the proposal for the project right after she landed a DOE job after graduate school. "…Someone once told me, 'Not in your lifetime.' But it is in my lifetime. INEOS is an extremely conservative company. They've taken their time doing it right. And it's cliché, but slow and steady wins the race."
The company plans to build a second plant, construct new facilities and license its technology to companies from around the world.  Many oil-dependent countries have searched for viable alternatives to petrol for years, and commercialization of waste-turned-bioethanol could have a major impact on fossil fuel production. 
You can share this story on social media: