Texas to immediately begin voter ID program following Supreme Court decision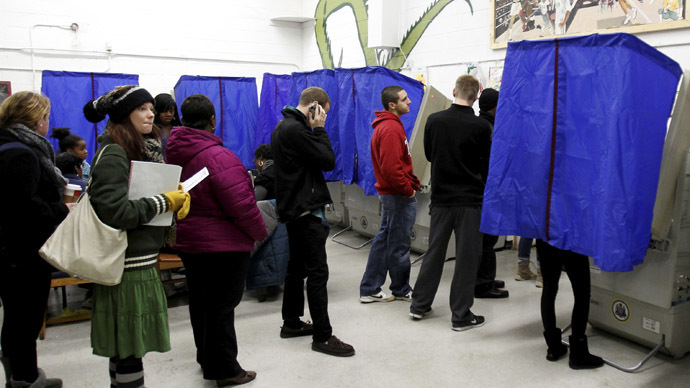 A controversial voter identification law in Texas is expected to go into effect immediately, according to the state attorney general, in the wake of a Tuesday ruling handed down by the United States Supreme Court.
Only moments after the high court invalidated part of the Voters Rights Act of 1965 on Tuesday, Texas Attorney General Greg Abbott said his state will begin "immediately" honoring local legislation that many say limits the ability for minorities to cast ballots.
Until this week's SCOTUS ruling, states such as Texas have required federal preclearance to make changes to voting rules. With the invalidating of the Voting Rights Act's Section 4, however, Texas and other locales are now in the free to enact their own rules for voters without awaiting permission from Washington.
"The section determined which states must receive clearance from the Justice Department or a federal court in Washington before they made minor changes to voting procedures, like moving a polling place, or major ones, like redrawing electoral districts," Adam Liptak wrote for the New York Times.
In a 5-4 decision this week, however, the court canned that section of the Voters Right Act, prompting Abbott to say his state will at once begin mandating photo ID cards inside of polling places.
"With today's decision, the state's voter ID law will take effect immediately," Abbott said Tuesday. "Photo identification will now be required when voting in elections in Texas."
"Redistricting maps passed by the Legislature may also take effect without approval from the federal government," Abbott added.
Gov. Rick Perry, who unsuccessfully vied for the GOP's nod as presidential nominee last year, called the ruling "a clear victory for federalism and the states."
"Texas may now implement the will of the people without being subject to outdated and unnecessary oversight and the overreach of federal power," Perry said, according to the Dallas Morning News.
Opponents of the Texas law feared that giving the state the ability to enact its own voter ID program would disenfranchise poor minority voters who would be unable to produce the documentation necessary to obtain a state sanctioned identification card. Last year a federal court said the state law imposed "strict, unforgiving burdens" on many Texas residents, but Tuesday's ruling out of Washington will let Gov. Perry and his administration soon enforcing the ID program.
"The Supreme Court has effectively gutted one of the nation's most important and effective civil rights laws," Lawyers' Committee for Civil Rights Under Law chief counsel Jon Greenbaum told The Guardian. "Minority voters in places with a record of discrimination are now at greater risk of being disenfranchised than they have been in decades."
"Today's decision is a blow to democracy. Jurisdictions will be able to enact policies which prevent minorities from voting, and the only recourse these citizens will have will be expensive and time-consuming litigation," he said.
President Barack Obama, the nation's first black president, called the SCOTUS ruling "deeply disappointing."
Abbott plans to make the ID program mandatory as soon as possible, but Susan Frederick, a legal expert with the National Conference for State Legislatures, told the Houston Chronicle that the attorney general may have jumped the gun.
"For any state to be able to move forward with legislative that is previously adjudicated or dealt with in state court, [officials] certainly have to go back and make sure it didn't fly afoul of the state constitution or any other currently valid federal law," she said.