North Carolina inmates claim guards tortured them with hot sauce
Published time: 4 Dec, 2012 20:03
Edited time: 5 Dec, 2012 00:03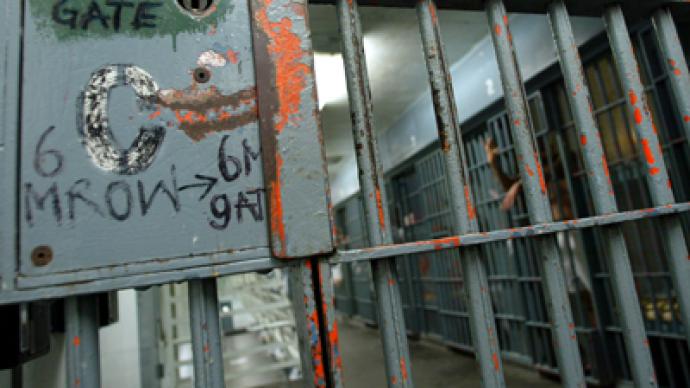 The warden of the Sampson Correctional Institution near Raleigh, North Carolina has been suspended with pay as investigators look into complaints that inmates were subjected to cruel and unusual punishment while detained there.
Department of Public Safety spokeswoman Pamela Walker confirmed this week that Lafayette Hall, the chief administrator at the prison, has been momentarily relieved of her duties as an investigation is carried out to get to the bottom of a laundry list of complaints addressed in a letter sent from six prison inmates earlier this year.
On July 23, six inmates at Sampson signed their names to a letter addressed to the U.S. District Court in Greensboro. In it, Gary Parker, Thomas Patten, Cedric Williams, Phillip Jarman, Donnie Ivey and Jamey Dowless complain of being forced to perform humiliating and degrading acts for the amusement of their own guards.
According to the complaints, jailers at the facility asked inmates to strip naked and emulate sex acts for their enjoyment. Some reports also allege that detainees were forced to drink super-hot "Exotic Hot Sauce" straight from the bottle and massage it on their genitals. Still, others say they were ordered to kill wild snakes they encountered while working with the prison's road crew and even throw captured bunnies in to oncoming traffic.
"While we are at work the officers forces us to do racist, homosexual, humiliating and demoralizing acts to ourself and each other," the letter reads in part. In another except, the inmates say three white detainees were ordered to "force a Black man down, grab his testicles, and make him scream and swear that 'He is white and proud of it.'"
"Upon review of an internal investigation, (the Division of Adult Correction) has referred the inmate allegations to the SBI for their review and any subsequent actions they deem appropriate," Walker confirmed to the Associated Press this week. "DAC considers the allegations to be serious and the alleged actions in violation of policy, which warrants further review by management."
According to the AP, the inmates that abided by their jailers' orders were rewarded with preferential work assignments and food, as well as contraband including cigarettes and beer. A copy of the letter obtained by The Smoking Gun claims the inmates were still "working with these officers" at the time of the correspondence and were "afraid of some kind of retaliation…when this all comes out."
A second corrections officer at Sampson has been reassigned while investigators assess the complaint.